The new year has brought loads of change for Florida punks Against Me!, and not just because they've concluded their relationship with Sire Records after five years and two critically-praised albums. A new drummer has entered the fold, with a familiar last name: Jay Weinberg's dad is Max, of E Street Band fame. Watch some of their first rehearsals below!
In these videos, captured by photographer Ryan Russell for his Nervous Energies web series, the three longtime members of Against Me! — frontman Tom Gabel, guitarist-vocalist James Bowman, bassist Andrew Seward — run through a few of their best songs, including some older catalog cuts, as they prep for their upcoming tour, which kicks off Saturday, Jan. 15, in their hometown of Gainesville, Florida. Weinberg already appears to be in the zone, pounding his kit with all of his dad's precision, but none of his buttoned up elegance. It's beastly!
While Gabel wouldn't confirm in a recent chat with SPIN that Weinberg is a full-fledged member — "I've just learned over the past couple years to not sign anything or to not make anything 100% concrete," he laughed –he said he was "looking forward to that being more of a long-term thing and hopefully that'll be what happens."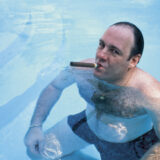 Below, watch the band play "From Her Lips To God's Ears (The Energizer)" from 2005's Searching for a Former Clarity, and "Piss and Vinegar" from SPIN's pick for 2007 Album of the Year New Wave.
Head to Nervous Energies to see three more songs.