Family of the Year, a DIY-leaning quartet from L.A., first appeared on our radar in advance of 2009's CMJ festival. Their sprawling debut album, last year's Songbook, is filled with summery Americana. But the slick, synthy, nocturnal song "Psyche or Like Scope" is a noted exception, and one of the album's best tunes. Watch the video for it below, a SPIN premiere.
Family of the Year formed in 2009, and ditched their original name, Bogie Ogreton, in favor of the current one, a reference to a Manson family biography that was being passed around the house they shared in L.A. "We thought our family, the band, is cool, and [Manson's] was a creepy family, and we are nothing like that," says frontman Joe Keefe.
They toured in 2009 and 2010 with Edward Sharpe & the Magnetic Zeros, Gomez, and Ben Folds, and recently "Psyche or Like Scope" become a top-played tune on Paris' influential Radio Nova, so they decided to craft a video for the song, even though they'd never even played it live.
The clip finds the band members, all close friends, cruising through a cosmic night in Los Angeles while driving a gorgeous Mercedes ragtop. But things get a little bit freaky, and they end up in the midst of a séance, conducted by some rather foxy folks in red gowns.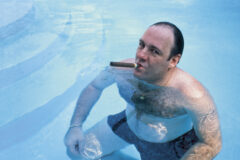 Turns out, the video's mystics are from the band Black Flamingo, L.A. pals of Family of the Year, and the clip's director, Mareesa Stertz, is that band's keyboardist.
While they're planning a European tour and an appearance at March's South by Southwest, Family of the Year are now wrapping their second album, which they're recording with producer Wally Gagel, who's worked on albums by Superchunk, Eels, and Tanya Donelly, and played bass in '90s alt-rock act Orbit.
The embrace of "Psyche or Like Scope" alongside the band's other, more straightforward rock'n'roll has inspired them to keep an open mind in the studio. "It's telling us we don't have to go in one specific direction, that we can experiment and people will still respond," says drummer Sebastian Keefe, who dropped out of college to make music with his brother Joe.
Watch the clip and tell us what you think in the comments.
WATCH: Family of the Year, "Psyche or Like Scope"