Like Lindsay Lohan's legal problems, Hugh Hefner's libido, and The Goonies, the feud between the Gallagher brothers never dies. The latest squabble: Liam is now claiming that Noel stole songs from the final Oasis sessions for his upcoming solo release.
"I've heard his fucking new record 'cos I fucking sung on half of it," Liam told Uncut magazine. "Fucking nonsense." [Via Contact Music]
Liam said Noel's songs were written and recorded during session for Oasis' final album, 2008's Dig Out Your Soul. "When I was in America for Dig Out Your Soul, he swiped some off because he obviously knew he wanted to do a solo album," Liam added.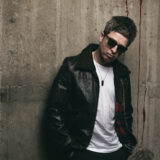 How, exactly, Liam knows his brother Noel snatched the songs is unclear. A tracklist for Noel's album remains unannounced, and Liam claimed the kin "haven't spoken" since Oasis split.
Meanwhile, the BBC reports that Creation Records co-founder Alan McGee has heard Noel's new demos, and he says the material is "as good as anything [Oasis did]… the reason that guy is quiet is he knows what he's got up his sleeve."