When Of Montreal hit the road for last fall's tour, Kevin Barnes and his crew of psychedelic pranksters delivered sets that leaned heavy on the band's latest record False Priest. The Georgia-based group will head out for a second trek in April – check out dates below – but they'll be mixing things up by debuting new songs, as well as surprise covers and classics from albums like Hissing Fauna, Are You the Destroyer?.
Barnes tells SPIN the new material will appear on an upcoming Of Montreal EP titled The Controller Sphere, which is due out this spring. "It's not completely different – the songs were written in the same period as False Priest," he says of the five or six new tracks. "Some of them are a bit noisier and a little bit less groove-based, and some are just a bit artier."
Of Montreal will still bring their wild, over-the-top stage show, which features the band and their entourage dancing around the stage in all manner of freakish costumes: winged dancers, "spooky kids," dragons, and bondage fetishists.The storyline – conceived by Barnes' brother David – is loosely based on a crew of people traveling through an alternate universe.
But Barnes says there's plenty of room for improvisation. "We'll have some new props and things, but those ones are secret," he says. Also expect plenty of surprise covers – similar to the group's takes on Michael Jackson's classics like "P.Y.T." and "Wanna Be Startin' Something" from the last tour. "Maybe I'll come out and do a muddy waters cover or something," Barnes jokes.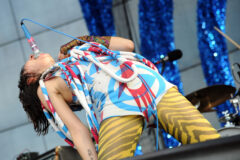 Once the tour wraps, Barnes will return to the studio to work on the next Of Montreal record, but he tells SPIN that he's also started writing new songs. His inspiration? Sufjan Stevens' latest experimental record The Age of Adz. "I love the spirit of that album," says Barnes. "You don't get the sense that he's making something to play on the radio. It's just this pure artistic statement. I'm trying to get back to that place."
So far, Barnes has sketched out three tracks, tentatively titled "This Planet Is an Orphanage," "Ye, Renew the Plaintiff," and "We Will Commit Wolf Murder." "I don't know what the titles mean," he says with a laugh. "They're definitely all over the place – it's a lot of genre hopping. 'Orphanage' is more soulful, more Motown-y or Curtis Mayfield sounding. And "'Ye, Renew the Plaintiff" has moments that sound like Sonic Youth. Not a lot of distortion, but just open guitar tunings, slightly angular and slightly dissonant."
Before Of Montreal embark on their Spring trek, they'll play five dates in their native South, with Kid Sister opening. Check out full dates below.
Of Montreal 2011 Tour Dates
1/12, Tallahassee, FL (The Moon)
1/13, Orlando, FL, (Firestone)
1/14, Ft. Lauderdale, FL (Revolution)
1/15, Tampa, FL (The Ritz)
1/16, Mobile, AL (Soul Kitchen)
4/2, Halifax, NS (Halifax Multi Purpose Centre)
4/28, Washington, DC (9:30 Club)
4/29, Philadelphia, PA (Theatre of Living Arts)
4/30, New York, NY (Webster Hall)
5/1, Boston, MA (Paradise)
5/2, Montreal, QE (Metropolis)
5/3, Toronto, ON (The Phoenix)
5/4, Cleveland, OH (House of Blues)
5/5, Chicago, IL (The Vic)
5/6, Omaha, NE (The Slowdown)
5/7, Lawrence, KS (Liberty Hall)
5/8- Denver, CO (The Ogden Theatre)
5/9, Salt Lake City, UT (In The Venue)
5/11, Seattle, WA (Showbox Market)
5/12, Portland, OR (Roseland)
5/13, San Francisco, CA (The Fillmore)
5/14, Los Angeles, CA (Avalon)
5/15, Phoenix, AZ (Marquee Theatre)
5/17, Austin, TX (Mohawk)
5/18, Dallas, TX (South Side Music Hall)
5/19, Memphis, TN (Minglewood Hall)
5/20, Atlanta, GA (The Buckhead Theatre)