On April 23, Indio, CA's Empire Polo Fields — aka, the home of the Coachella music festival — will transform into metal Mecca.
That's when "The Big Four" — Metallica, Slayer, Megadeth, and Anthrax — will unite for their first and only U.S. show. Free tip for concertgoers: pack Band-Aids. This guy should have.
The Big Four gig follows a trial run of seven shows in Europe last year. Tickets for the Big Four gig go on sale on Friday, January 28, at 10:00 A.M. (PST) via Ticketmaster.com. It'll cost you $99.00 for general admission, $199.00 for VIP, and probably three times that in 24oz Coors tall boys.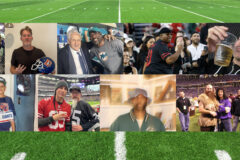 Shuttles service from various SoCal cities, including Carson, Los Angeles, Pasadena, Ontario, Riverside, Anaheim, Irvine, and San Diego will deliver concertgoers to the Polo Grounds for $40.00-$65.00 round-trip. And you know what that means? You now have a license to party.
For more details, visit Big4Festival.com.
While you wait, read a joint backstage interview with members of Slayer, Anthrax, and Megadeth, here.