Like Red Hot Chili Peppers or Fugazi? What about Bloc Party, Franz Ferdinand, the Killers, or almost any band with an angular, dance-y sound? Thank Gang of Four.
In the late 1970s and '80s, their influential music laid the groundwork for the post-punk revival — Kurt Cobain said Nirvana started as a Gang of Four rip-off. And on January 25, the band will return with Content, their first studio album in 16 years. SPIN.com scored the premiere of one of its best tracks, "Who Am I." Listen below!
LISTEN: Gang of Four, "Who Am I"

The song is classic Gang of Four — a fusion of shrapnel funk guitars, popping bass and drum grooves, and frontman Jon King's talk-sung lyrics of social observation.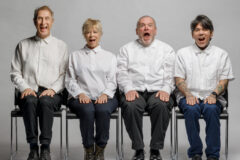 "'Who Am I' started as a picture of early America," guitarist Andy Gill tells SPIN. "It has a cast of characters — a cripple on crutches, pilgrims, people out shopping. But the breakthrough came when Jon woke up one night and came up with this line, 'Who am I when everything is me?' That kicked the song into another gear. That's where we are at the beginning of the 21st century — self-obsession and vanity has gone into the stratosphere."
Gang of Four, whose 1979 debut Entertainment! has proven to be one of the more timeless works in rock, broke up in the late '90s but reunited in 2004 with the original lineup. Now, only two of those members — Gill and King — remain, but Gill says the new lineup and album are true to the band's original sound.
"With the early Gang of Four songs, I would write or collaborate on a lot of the drum and bass parts. Jon and I basically wrote the songs. So it's not different at all," Gill says. "I approach writing in a very similar way as I did in 1978. It's like asking the same questions and coming up with only slightly different answers.
"I don't mean to sound arrogant, but I knew it was going to sound good."
The piecemeal recording process, which began in 2007, also helped focus the LP, says Gill. By recording during breaks in Gill's producing duties (he's worked on albums by the Futureheads, Killing Joke, and others), the band — also featuring drummer Mark Heaney and bassist Thomas McNeice — was able to experiment in the studio.
"It's good to have time to make mistakes and go down the wrong path," says Gill. "It's easy to forget your ultimate job as a producer and musician, which is to find that essence — whatever it is that gives the identity and the authenticity to a sound — cling to it, then get rid of the extraneous stuff. That's basically our mission statement."Lyrically, Gang of Four are known for their socio-political observations. And that's still the case on Content, says Gill.
"We're political by default," he says. "Because if you start touching on the real world and describing things in a critical but observational way, people are going to say, 'Yeah, that sounds political.' Our lyrics are just descriptive, but as many people have pointed out, being truthfully descriptive is a political act."
During the recording process, King and Gill had a zany idea — package a special edition of the album with vials of their own blood. Ummm, what? "It's very, very diluted," Gill laughs. (To pre-order the special edition, click here) "We started joking about releasing something that you can't download. Authenticity is important and blood sort of symbolizes authenticity."
He adds, "We have an expression in England for when you've worked as hard as you possibly can, and given everything you can give, and then someone still asks for more. The expression is, 'Well, what do you want? Blood?' We've given everything on this album, so here's the last thing that we've got: our blood."
Gang of Four will hit the road on a North American tour in February. See the complete itinerary here.
More Gang of Four on SPIN.com:
NEWS: New Gang of Four Album After 15 Years >>