What do Eyehategod, the Cribs, Stereophonics, and Echo and the Bunnymen have in common? They're among a handful of rock combos to perform not one but two full albums during a single show within recent memory. The twofer that bandleader David Lowery delivered at New York City's Highland Ballroom Friday night, however, when he led Camper Van Beethoven through the entirety of 1989's Key Lime Pie, took a break, and then returned to whip through 1993's Kerosene Hat with his later group, Cracker, probably marks a first of sorts.
Why play these particular albums? For one thing, they mark each group's respective commercial peak, with Key Lime Pie also Camper Van Beethoven's final album until the group's 2004 reformation. And in addition to providing their now mostly middle-aged fans with a guaranteed nostalgiagasm, performing an entire record obviously makes working up a setlist a whole lot easier. As pop gimmicks go, it's a win-win all around.
Camper Van, though, got the stronger material out of the deal. While both albs display a certain stoner gravitas, Key Lime Pie is both less absurdist than its CVB predecessors and less infused with the band's signature Balkan tinge.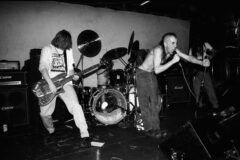 The character development Lowery would mine with Cracker appears in "When I Win the Lottery" and "(I Was Born in a) Laundromat." After a prerecorded "Interlude," the album's waxes increasingly dark, humid, and psychedelic, climaxing with CVB's memorable cover of Status Quo's "Pictures of Matchstick Men."
When Lowery sang "Seems like we're all a little down on our luck" during Key Lime's dire closer, "Come on Darkness," you could practically hear the nods of resigned recognition in response. CVB encored with their cowboys-and-acid anthem, "Eye of Fatima," and their original absurdist masterpiece, "Take the Skinheads Bowling."
Much of CVB's original depth and worldly flavors were supplied by co-founding violinist Jonathan Segel, who left the group shortly before Key Lime Piewas recorded and is now back in the fold. James Immerglück, on pedal-steel and other guitars, lent a bonus dimension of twang to both groups, who also shared drummer Frank Funaro.
Lowery, a complex irono-hippie with a sober stage presence, still sounds like a teenaged SoCal pothead at fifty. He loosened up, but only a little, when he returned to the stage with Cracker, who delivered a more galvanizing performance on the back of lesser tunes with bigger hooks. Guitarist Johnny Hickman and bassist Sal Maida are casually outstanding energizers who make tunes like "Get On This," and "Let's Go for a Ride" sound better than they probably deserve to.
Lowery's "Low" and the Grateful Dead's "Loser" bookend Kerosene Hat proper — but the real excitement arrived during the Tucson EP (released prior to the album) that Cracker inserted between the numerous "hidden" and empty tracks that close Kerosene. That's where you'll find the how-I-spent-my-summer-vacation favorite "Eurotrash Girl" and the show-stopping "I Ride My Bike," which here sandwiched an epic combined Cracker Van Beethoven cover of Pink Floyd's "Interstellar Overdrive."
The encore was a little weird. Lowery and Hickman returned to the stage with acoustic guitars and began to play "I Sold the Arabs the Moon" from Lowery's upcoming solo album, The Palace Guards. However, he quickly aborted it after less than a verse. "You can buy the record," he explained.
The duo then kicked into "Friends," the ragged-but-righteous drinking-buddies highlight of last year's Sunrise in the Land of Milk and Honey and the only tune to ever tout the late Captain Beefheart's music as make-out material. But more important: Has anyone ever gone for a triple-album evening?