The reunion of California indie act Pavement was one of 2010's biggest rock'n'roll stories, with the influential '90s band touring for the first time in a decade, nabbing headline slots at festivals, and even making a little cash. But since they walked off the stage in Argentina last November, the band has been relatively quiet about what's next, until now.
When we caught up with with percussionist and singer Bob Nastanovich to talk about the recent Pavement-based episode of Food Network's Ace of Cakes, he gushed about their year on the road, and hinted that more shows may be in Pavement's future.
"I know that everybody enjoyed themselves," he said of the jaunt, calling from his home in Iowa. "We managed to make it through most of the year without too many completely uncoordinated, awkward moments."
And while there were certainly some bumpy nights — "It's Pavement. You can't expect it to be perfect all the time" — the experience was ultimately positive, and could absolutely happen again. "I wouldn't expect a full tour, but I'd be hopeful that we would do something," he said.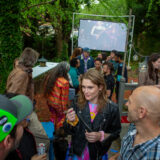 Here, Nastanovich talks about Pavement's plans, whether they'll ever write new music, and his own next moves.
SPIN: After being on the road for a year, were you excited to go back to what you were doing before or would you rather be back on tour?
Bob Nastanovich: I'd rather keep touring. I had a great time. It was really, really fun to entertain people with those songs. It takes a while to come back down to Earth because it was a lot of fun. Normal life doesn't really create that type of excitement and you can't replace it. I think when you get to be 43 as opposed to in your 20s you appreciate that type of thing that much more. For Pavement, 2010 was a fantastic year. I hated to see it end and I hope that there will be an occasion in the next few years when we would do something again.
How do you think the other guys feel about that subject today?
I know for a fact that Mark [Ibold, bassist] absolutely loved it and Steve [West, drummer] had a fantastic time. I think Stephen [Malkmus, frontman] enjoyed it and Scott ["Spiral Stairs" Kannberg, guitarist] would always want to do it.Several of them, not just Malkmus have other projects and demands within music, so we'll see what happens. We're very close with our booking agent who was responsible for getting the ball rolling. I'm sure they'll keep us informed if people are still interested in Pavement. I don't know if we'd want to dedicate a whole year to it again, but I think it would be cool to assemble something at some point.
Would you have liked to see the band work on new music together?
I can't really say, as I don't participate in that aspect of Pavement. But it's sort of disappointing that it doesn't seem like a realistic possibility that any new music would be made. At this point, Stephen does not write songs for Pavement anymore, or songs in the Pavement mindset. I think he considers that part of his juvenilia, which is his own prerogative. He's left that era behind him and then decided in 2010 that he would put himself back in that mindset for seven or eight months. As far as I could tell, he seemed to enjoy it quite a bit. Maybe he'd be willing to do it again.
What do you think was the thing you gained or lost the most by doing the tour last year?
The main reason to do the tour was to give a lot of people, regardless of their age, an opportunity to see this band that they'd heard a lot about and had bought some of the records. But they'd never seen any of that music presented live and had heard reports of the way we were as a band in the '90s: pretty inconsistent and brilliant at times but also awkward at times. Being able to pull that off, and, in some cases, be good — that was great.
There were definitely a lot of fans who had never seen you guys in the '90s and were excited to see you perform.
Everybody seemed to be on our side, which is pretty pleasant. I just remember it being more of a struggle in the '90s. A lot of it had to do with that every time you're out on tour you're trying to sell a record, and that wasn't the case with this tour. It was just like, we have to play the best 100 minutes of Pavement music that we can in this town, and that's all we have to do. I tried to cherish the moments and realize that when we stopped playing in Buenos Aires in November, that it might be it. And I'm fine with that if that's the case.
What have you been up to since the tour wrapped?
I'm trying to piece together employment opportunities for next year in the horse racing industry. I had a bunch of jobs, mostly here in Iowa, before I went on tour last year and I'm trying to get them back. I'm also pretty excited that in a few weeks I'm going to go to Las Vegas and start working for the Daily Racing Form, doing videos for their website. They're going to have me go to major racing events, interview people, and try to make it different than a regular sports show. Hopefully, we'll be able to pull off something entertaining and make it onto TV someday.
Horse racing seems to have become younger, more hip.Is that something that you've seen?
I'm happy to hear that you mention it, that there has been a concerted effort to try to get young people interested in the game in any way, shape, or form — as a fashion thing, as a sports thing, as a cool thing to participate in, as an investment. The powers that be in horse racing have come around to recognize that if they don't make the sport more adaptable and get young people more interested in it, then it's going to become obsolete. More bands are appearing at race tracks, playing after the race card is over. There's more dollar beer nights. Racing's trying to make it more of a social event that people in their 20s and 30s will come to.