Cee Lo has transformed frank tales of heartbreak into pop gold on his killer new album, The Lady Killer, including Song and Record of the Year Grammy nods for the feel good/feel bad anthem "F*ck You." And the just-released video for "It's Ok" continues the trend. Watch below!
The clip mixes live footage with cartoon-style animations as Cee Lo — snazzied up in a pin-striped suit and bow-tie — walks the streets of New York City, waxing nostalgic about his love affairs with three women, including one "legendary" love.
His three exes all appear to torment the Gnarls Barkley crooner, dancing, snuggling, and smooching him in a series of what-could-have-been moments. "It's ok, to say that you love me. I think of you / I still think of you," he sings.
Watch the video below, then sound off in the comment section.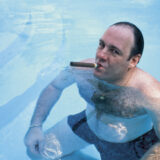 WATCH: Cee Lo Green, "It's Ok"
https://www.youtube.com/embed/IGe3GFWEO2I?fs=1