German metal gods Rammstein might not have scored a hit song or album in the U.S. since 1997, but that didn't stop them from staging their first American gig in nearly a decade on Saturday night at New York City's Madison Square Garden, and selling the place out. Impressive, sure, but how do you really make it special? By accompanying your churning metal anthems with the deployment of a stockpile of explosives probably large enough to draw the attention of federal authorities.
Pyro wasn't the only bit of theater on display: The band took the stage by using pickaxes to bash open a wall separating them from the crowd, and then dove into "Rammlied," one of several songs in the Rammstein catalogue that uses the band's own name as the chorus lyric. As with basically every song that wasn't "Du Hast," their most familiar cut, the non-German-speaking fans attempted to mouth along phonetically to the German lyrics.
But there was also a hefty contingent of foreign attendees on hand, leading one usher to comment, "It's like the League of Nations in here." Frontman Till Lindemann stuck mostly to his mother tongue, speaking only 17 words in English the entire night.
For the most part, the crowd wasn't there to sing along — they were there to see shit burn, and they weren't disappointed. "Waidmanns Heil" was punctuated with huge red flares coloring the front of the stage, while flamethrowers sprayed bursts of fire that were synchronized with Christoph Schneider's drum fills.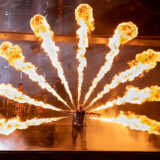 "Feuer Frei" featured one of the night's better stunts, as guitarists Paul Landers and Richard Kruspe strapped on helmets that spewed massive flames from their mouths, and "Du Hast" culminated with Lindeman shooting a flaming crossbow across the stage, which caused a chain reaction of crisscrossing bursts of sparks.
The night carried on like some sort of demented industrial metal circus, particularly on "Weiner Blut," during which several racks of baby dolls were lowered from the rafters, equipped with green lasers coming out of their mouths. Naturally, they all exploded.
But as the band's pyro crew told SPIN prior to the show, the most complicated set piece is for the song "Benzin," during which a member of the crew, posing as a stage-crashing fan, dances onstage before being immolated by Lindemann's flamethrower.
Even with all the spectacle and production value, there were actually songs being performed, and the ones that demanded the most attention musically — the melodramatic and powerful "Sonne" and the jittery stop-start dynamics of "Keine Lust" — made their impressions without the benefit of gimmicks. But then Lindemann rode a giant phallus back and forth across the stage and doused the general admission section with foam — hard for any kind of music to eclipse that visual.
That's the interesting dichotomy with Rammstein: While they're serious musicians, and every word uttered by Lindemann sounds like a threat, the music is always juxtaposed with spectacle. So as long as you don't mind taking your industrial metal with a healthy dose of exploding baby dolls, giant erupting phalluses, columns of fire, and idolatry (the band members kneeled reverently before Lindemann, clad in enormous metallic angel's wings, at the show's conclusion), then Rammstein might be your favorite band ever.
Setlist
Rammlied
B********
Waidmanns Heil
Keine Lust
Weißes Fleisch
Feuer frei!
Wiener Blut
Frühling in Paris
Ich tu dir Weh
Du Riechst So Gut
Benzin
Links 2-3-4
Du Hast
Pussy
Sonne
Haifisch
Ich will
Engel
More Rammstein on SPIN.com:
Behind the Scenes: Rammstein Live >>