While their Fall Out boy bandmates are currently exploring the lighter sides of pop music — R&B in the case of singer Patrick Stump, and electro pop for bassist Pete Wentz — guitarist Joe Trohman and drummer Andy Hurley are taking a heavier turn with the Damned Things, their new outfit which finds them teaming with members of Anthrax and Every Time I Die. Hear their brand new song, "Black Heart," below.
Like the bulk of the Damned Things' debut album Ironiclast (out December 14), "Black Heart" doesn't sound like anything you'd expect from the band members' other projects. While there's no shortage of guitar theatrics from Trohman and Anthrax's Rob Caggiano, this is a gritty hard rock record, with a relentless, throbbing pulse, straightforward vocals from Every Time I Die's Keith Buckley, and zero possibility of spawning any dance remixes. In particular, "Black Heart" nods to the Americana-tinged boogies of Mountain or ZZ Top, with a touch of early grunge crunch, mainly of the Soundgarden variety.
Trohman loves the fact that the Damned Things — who made their live debut in Brooklyn this summer — will catch many off guard. "I'm self-aware enough to understand that, on paper, the band looks really fucking strange to a lot of people," he tells SPIN. "Some people really seem to get what we're doing, and for some people it seems to go over their head like a jet."
And while he's been writing music with Anthrax's Scott Ian for years, Trohman's still humbled by the fact that they're in a band together. "Right after I would hang out with the dude, I'd be like, 'Holy fuck! I can play music with him. I don't deserve that!'" he says. "But I don't think we would have been able to get to this point if I'd continued to let that mind-fuck me."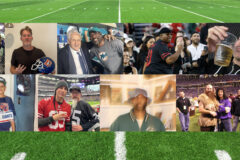 The Damned Things have two upcoming dates — Dec. 12 in Chicago, and Dec. 13 in New York — to celebrate the release of Ironiclast, and plan to hit the road, mostly in support slots, in 2011. Trohman is stoked to get onstage again, even if the gigs will be less glamorous than those he staged with Fall Out Boy. "I feel blessed and lucky to be able to be in another band and actually be able to go on tour," he says. "I'm not looking for any handouts."
Listen to "Black Heart" below and tell us what you think in the comments.
LISTEN: The Damned Things, "Black Heart"