For 21 years, Los Angeles' alt-rock radio stalwart KROQ has thrown the holiday ball to end all. Set at the Gibson Amphitheater, which itself is seated within the Universal Studios Hollywood theme park, the annual two-day gala is a destination trip for some and a local holiday for many.
Perhaps unique to Almost Acoustic Christmas, festival organizers are, well, organized, turning talent around, quite literally, at an amazing pace thanks to a huge rotating stage. Set lists are kept tight and just about everyone's a potential headliner — with 19 bands playing in less than 12 hours total, beer and bathroom breaks at strictly at your own risk. Blink, and you might miss one of the best moments of the entire weekend.
Of course, SPIN has got you covered just in case.
Best Use of Boat Shoes: Vampire Weekend
It's far too cold back east to go without socks, but New York native Ezra Koenig showed his ankles with all the Ivy League pride we've come to expect, looking right at home sporting a pair of brown leather topsiders while drummer Chris Tomson hit the skins in a basketball jersey. "This is one of the nicest December days I've ever seen," said Koenig, pausing to consider this. "In my life." Yup, 80-degrees, to be exact, which coupled with the group's jingly, tropically tinged pop made songs like "Holiday" and "California English" seem written specifically for the occasion. Plus, those cascades of guitar on "Cousins" are so surf that the fake palm trees on stage seemed to bend with the band's breeziness.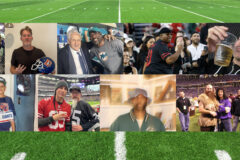 Best Awkward Exit: Florence & the Machine
The rotating stage, while a true win for festival efficiency, does come with the occasional drawback. Like, for instance, when you haven't quite wrapped up and the thing starts turning anyway. At the end of her band's hypnotically high-drama set, Florence Welch decided to take a break from all of that bellowing, quavering, voguing and swooning. She wanted a little holiday levity, so she smiled and addressed the audience. "I'm going to teach you a special Christmas dance." The directive was simple. The Machine would play their brightest song, "Dog Days Are Over," and when Welch said, "Go!," we'd pogo like maniacs. But the call came as the stage spun her out of sight, and only the Black Keys were there to witness the frenzy she'd whipped up.
Best Flirt: My Chemical Romance
Gerard Way stood like a matador, facing the crowd with that stringy shock of pinkish red hair waving like a flag, taunting. The singer of My Chemical Romance popped his jacket sleeve. He licked his lips. Then he popped his lips, and licked his jacket sleeve. "I guess that guy in the pit never got the memo," he called out feistily toward some unknown offender. "If you don't like MCR, you wait outside for your girlfriend." Of course, it's words like that that cause girlfriends to mysteriously vanish into the night. Moments later, though, Way had his sights set on someone else. "Look at that guy — he's cute!" Later, he'd muss the hair of a young photographer beneath him before closing with "Cancer," spraying a mouthful of water onto the audience to punctuate the final lyric: "The hardest part of this is leaving you."
Best Dad Jokes: Bad Religion
Leave it to the lead singer of one of sunny SoCal's longest running punk institutions to crack wise like pops on a fishing trip. "This song goes out to everybody here who had to wait outside in the snow to get in," Bad Religion's Greg Graffin, 46, joked. Har har. "This one goes all the way back to the 20th century." He was, of course, referring to the band's undefeatable 1990 classic, "21st Century (Digital Boy)," but it was also a quip about the generation gap separating the stage from the pit.In truth, the crowd was too busy happily slamming into one another to realize they were celebrating "30 years of punk rock," as Graffin announced before aptly tearing into 2004's red-hot "Los Angeles is Burning." Good thing there's all that snow outside to help cool things off, eh, dad?
Best Actually Acoustic Performance: Smashing Pumpkins
The title of KROQ's annual event has become something of an intentional joke over the past two decades. There's very little that's even almost acoustic about the show anymore, so when a band actually goes unplugged for one of its hits, it's a rare treat. Saturday night headliner Smashing Pumpkins delivered one of the weekend's most exquisite moments in an acoustic take on 1995's "Tonight, Tonight," which found Billy Corgan's peculiar keening as gloriously nasal and positively magnetic as ever. Elsewhere, old songs ("Bullet With Butterfly Wings") and new ones ("Freak") were drenched in heaping helpings of sludgy electric skronk.Read more about KROQ's Almost Acoustic Christmas 2010 on page 2 >>
Best Sing-Along: Brandon Flowers
Sandwiched between two of the weekend's highest energy acts — the Black Keys and Vampire Weekend — Brandon Flowers had a tough time keeping the crowd on their toes and out of their seats. It could have been a scheduling issue, or it could have been his decision to cover a song that'd resonate with about three percent of the audience ("Bette Davis Eyes," really?), but all of that ended when he broke out his second cover of the evening, "When You Were Young" by his own band, the Killers. Backed by spare acoustic plucking, he gave the song a somber yet soaring rebirth, and he had a lot of help. Lighters and cell phones waved side to side in the amphitheatre air while thousands of fans sung along with every word.
Best Recession-Proof Rock: the Black Keys
The Black Keys' set in three words: Raw. Ripping. Economic. While so many other bands on the bill rolled six deep with an arsenal of backing tracks, synthesizers and other digital ephemera, the Akron guitar-and-drums duo slathered on the bluesy thickfreakness with the assistance of only two additional dudes — bass and Rhodes. "We don't have much time," said Dan Auerbach after wailing on lovelorn opener "Tighten Up." "We're gonna keep it moving." With a workmanlike grind, they ploughed through one crusty number after another, playing louder and heavier than anyone else that day all the way to the end, where Auerbach and Patrick Carney kicked their accomplices off the stage to fittingly belt out their 2008 single "I Got Mine." Shore do.
Best Wintry Vibes: Broken Bells
After the familial fireside warmth of Edward Sharpe & the Magnetic Zeros, Broken Bells felt like a gust of frigid air from someplace where winter actually happens. James Mercer and Danger Mouse led their seven-piece outfit through a slow-pulsing, heavily reverbed psychedelic dub intro — a cavewise descent into the song "October." The massive wreath-wrapped screen above displayed glacial peaks and a starry night, while below the drums thudded slowly, the keyboard hummed like an organ, and the bass rumbled like icebergs scraping one another in passing. From the downer pop of "The Ghost Inside" to the more aggressive new song "Meyrin Fields," Broken Bells kept the crowd chilled and completely enrapt. A spray of white lights swirled over the frozen scene. For 25 minutes, we were inside of a snow globe.
Best Out-of-Character Cover: Cake
With the crowd lulled into a false sense of comfort by familiar songs — "Frank Sinatra," "Never There," "Short Skirt/Long Jacket" — and John McCrae's unwavering monotone, Cake took a sharp left turn, launching into a pitch-perfect rendition of Black Sabbath's "War Pigs." While their version of the song does indeed appear on the 2007 collection B-Sides & Rarities, in person it was devoid of all irony (as opposed to, say, their take on Gloria Gaynor's "I Will Survive"). The band put its typically restrained Mexicali alt-blues on hold to dig into some monstrous chords while McCrae let loose too, giving Ozzy a run for his war chest.
Best Seasons Greetings: Jimmy Eat World
Though Florence Welch deserves some credit for creepily cooing Mariah Carey's "Christmas (Baby Please Come Home)" over the Machine's squealing dissonance, she didn't commit to the bit, singing just a chorus before moving on. Jimmy Eat World, however, took on the whole of the Wham! seasonal, "Last Christmas," which they recorded for one of The O.C.'s holiday compilations. The band's twitchy lead man Jim Adkins seemed relieved to sing something so unabashedly upbeat (though suitably emo, topically speaking). For the crowd too it was a momentary respite from the epic emotional pummeling — right before the one-two closing punch of Bleed American singles "A Praise Chorus" and "The Middle."