As Toro y Moi, Columbia, South Carolina's Chaz Bundick, along with acts like Neon Indian and Washed Out, is pioneering a compelling, hazy style of homespun electro-pop. On his second album as Toro, Underneath the Pine (out February 22), Bundick could very well propel this sound further into the limelight — hear an exclusive preview of "Still Sound" below.
The album, unlike Bundick's buzzed-about EPs and debut LP Causers of This, was recorded with a live band and features no samples of other music. The result is an original, funkier take on his zoned-out ambient sound that still preserves the production quality he's become known for: washes of keyboards and moogs, simple electric guitar lines, and dance-y rhythmic grooves. "Still Sound" is no exception.
The track slowly unfolds, revealing new sounds as you listen closer and closer: '70s disco, soul, and funk, ambient electro-pop, upbeat indie-rock, and more. And it was all recorded at his home in Columbia.
Lyrically, Bundick's watery, echo-ing vocals repeat, "It's hard where you're living / Any way to make it balance / It could be too much." "It's about keeping up with friendships and staying in touch," he tells SPIN. The track, he says, was written quickly, then tested on the very subjects of its lyrics. "I remember writing it and then showing it to my friends the same night," he says. "We listened to it outside at night inside a jungle gym."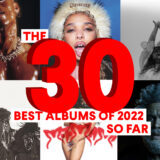 Listen to "Still Sound" below. Like it? Love it? Tell us in the comment section below. If you're looking for something even dancier, try Bundick's side project Les Sins.
LISTEN: Toro y Moi, "Still Sound"(Listen)
Underneath The Pine tracklist:
1. "Intro/Chi Chi"
2. "New Beat"
3. "Go with You"
4. "Divina"
5. "Before I'm Done"
6. "Got Blinded"
7. "How I Know"
8. "Light Black"
9. "Still Sound"
10. "Good Hold"
11. "Elise"