Damon Albarn is a busy man — and he's only getting busier.
He recently released Gorillaz's third album, Plastic Beach, and his all-star band, including members of the Clash and special guests like Lou Reed and Mos Def, are currently touring North America. But in a new interview with New Zealand's Stuff, the 42-year-old Brit explains that he has much more material in the works — including a new band and album with Red Hot Chili Peppers bassist Flea, a future solo release, and another Gorillaz album, which he calls "my love letter to America."
On his new project with Flea and afro beat drummer Tony Allen:
Albarn says the debut from the yet-to-be-named band is "three-quarters of the way through; I need to get this finished." He adds that the album will focus on Allen, a Nigerian afro beat drummer who has worked with Fela Kuti and played in Albarn's side-project the Good, the Bad, and the Queen. "[It's] another band with Tony Allen; centered around what he does. But this time it's him and me and Flea from the Chili Peppers and some of my favorite African musicians will be involved also. Flea of course is an anagram for Fela and Flea is so into this music – so that's been great."
On the upcoming Gorillaz release:
"There's also another Gorillaz record I'm finishing up too," says Albarn. "I've actually taken a mobile studio with me on this tour, because it's the longest I've been out on the road since, as I say, the days of Blur at its peak, so I have that luxury now of recording as I go. It's basically a tour-diary as a record, I guess it's my love-letter to America. I used to be very baffled by this place, and I guess I still am in some ways; America confused me enormously. But right now with all that's going on this is a good place to be and this has been a great tour, the shows have been very special.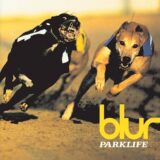 On a future solo release:
"I've promised myself that one day there'll be a proper ballad record, I don't know – 'Damon Albarn Sings Ballads' or something," he says.
On another release from the Good, the Bad, and the Queen:
"Well, I would hope so, definitely."
On the Gorillaz's all-star live band and tour:
"Hopefully it will feel like a benchmark really, this group," he says of the touring outfit, which also includes soul crooner Bobby Womack, who appears on Plastic Beach. "I mean that – it has been a rewarding experience… The funny thing about working with your heroes, as so many of these people are – it's strange really, the more you get to know them as people, the more you think of them as just people – which they are. And you realize that you're all helping each other. They're getting a lot out of this and there's a lot of mutual respect. For me seeing Bobby in action again has been great; here was a guy who was just done, really. He was spent. He was finished with music, he wasn't doing anything and he felt used up, I guess. And he's had a whole new start with this album and this tour and that's been amazing to feel part of – he's really starting to come out of himself on this tour and that's great."
On a Blur world tour:
"There won't be another world tour for me – for anything – for five to six years; it would seem unlikely. I have a young daughter and it's just not feasible, it's too long away from home. This has been great, but it's too much after a while and so, no, there won't be any tours for me for a while, I should think."
On film score work:
Albarn, who contributed to Trainspotting soundtrack, among others, has an interest in working in film again. "The thing there is you really need to be working with a director who likes what you do; who is open to giving you a certain freedom to work with your ideas and explore them. But I love film music, I love listening to it and I love doing it. So that's something I'd consider again."