This February, PJ Harvey will return with a new album titled Let England Shake — and the record features the iconic British singer teaming up with a top roster of producers, collaborators and session aces, according to NME. The disc — Harvey's first since 2007's White Chalk — finds Harvey teaming up with longtime collaborator John Parish, producer Flood (U2, Depeche Mode), ex-Bad Seeds member Mick Harvey, and Harvey's frequent backing musician Jean-Marc Butty.
Let England Shake sounds like a departure from the mysterious, gothic-tinged White Chalk. Harvey and her team cut the album live in the studio and she says she didn't "set down any rules" for the sessions.
"For some reason, we were all in a very good place, with a lot of energy, intensity, and vitality in us at the time," Harvey told NME. "It was a really enjoyable experience, and I think the record's ended up full of energy and quite and uplifting experience because of it."
Earlier this year, Harvey appeared on Britain's Andrew Marr Show to perform the album's title track, which features a sample of the Four Lads' 1953 single "Istanbul (Not Constantinople)". Check it out below.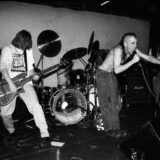 WATCH: PJ Harvey, "Let England Shake"
https://www.youtube.com/embed/64C6Ih4QlrE?fs=1