After a six-year hiatus, followed by random hints and cryptic tweets about when they might tour again, A Perfect Circle left fans with a new question to ponder in the wake of three consecutive nights in Tempe, Arizona: Are they really back?
If so, it would seem the band conceived by Billy Howerdel and fronted by Tool/Puscifer singer Maynard James Keenan (albeit 40 feet back from the front of the stage) has adopted a wait-and-see attitude toward their own return, with this five-city tour being the first in a series of baby steps toward a full-on resurrection.
In Tempe, as in each city on the trek, the band played three nights, with each show featuring a performance of one of the band's three albums, in its entirety, beginning with Mer de Noms, A Perfect Circle's record-breaking debut, and followed by Thirteenth Step and eMOTIVe, with almost no deviation from the recorded version. Not a scrap of new material was performed, nor was there even the slightest suggestion that the band might be working on any. The performance played like a dress rehearsal for something bigger that may or may not come later.
"Don't get me wrong," Keenan said to the Tempe crowd on Thursday night. "I'm glad to see you, but this is about us reconnecting with each other."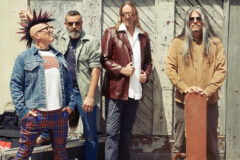 Fans at Tempe's Marquee Theatre seemed all too happy to let the band do just that. Marred by cracked ceilings and a floor freshly varnished with the contents of dropped Solo cups from the previous night's Gov't Mule show, the Marquee hardly seemed fit for a rock'n'roll reunion of this magnitude, but the presence of A Perfect Circle on stage transformed the joint into a place of worship. Here there were none to be converted, only dedicated disciples grateful for their masters' return and eager to show that gratitude by echoing choruses with Keenan's own trademarked inflections and raising cheers after every comment from the band. Not that there were many comments.
A Perfect Circle launched into Mer de Noms executing each track with every tremulous lyric and guitar riff from album intact. Aside from a quick "good evening," it wasn't until after "Orestes" (the album's fifth song) that Keenan threw a dry bit of humor to the crowd, asking them to guess what song was next before the band hit the first notes of "3 Libras."
"We have health insurance policies that have matured since the last time we played this song," Keenan said.
The band's three-song encore shook things up, starting with "Diary of a Lovesong" (a mash-up of Ozzy Osbourne's "Diary of a Madman" and The Cure's "Lovesong") and continuing with David Bowie's "Ashes to Ashes." The band closed the night with John Lennon's "Imagine," but flubbed the intro at first and decided to start it over.
But was last night's re-introduction to A Perfect Circle, after six years of absence, a flubbed one too, or worthy of a complete restart? We'll still have to wait and see.Read the review of A Perfect Circle's second night, performing Thirteenth Step >>
Setlist:
The Hollow
Magdalena
Rose
Judith
Orestes
3 Libras
Sleeping Beauty
Thomas
Renholder
Thinking Of You
Brena
Over
Diary of a Lovesong
Ashes to Ashes
Imagine
Friday night found A Perfect Circle performing 2003's Thirteenth Step, undoubtedly the album with which fans most identify, a musical incantation that tapped into the unchecked passions of a generation of teenagers searching for something to call their own. Evidently they found it, feeling the band's sophomore album in a deep, personal manner, and that emotion was palpable during the first verse of "The Package," where voracious voices in the audience all but drowned out Keenan's lead vocal.
But while fans soaked in the sounds of Thirteenth Step, which debuted at No. 2 on the Billboard 200 and remained on the charts for 78 weeks, the band continued to knock off the dust — and also revealed a bit of inner tension.
"It's something we've got to do if we're going to get back out there and do things," said guitarist Billy Howerdel of the band's reunion tour. But he couldn't resist throwing in a dig at the oft-reclusive Keenan: "It's a challenge, especially for a guy who just likes to drink wine and stare at the TV."
Keenan, who owns the Caduceus Cellars winery in Arizona's Verde Valley, indulged this wino image by actually stopping the show briefly before "The Nurse Who Loved Me" to take a call from his wine distributor. "I've been waiting on this call," he said, then announced he has won "three gold bells from the Arizona Wine Growers Association."
If the sold-out show's audience was disturbed by any of this banter, they didn't let on, but whether the commentary was laced with sarcasm or not, it cast Keenan's commitment to A Perfect Circle's reboot in a somewhat questionable light.
But when Keenan and the band had their heads in the game, Friday's performance did recapture some of that early '00s spark that made A Perfect Circle so beloved. In particular, drummer Josh Freese (ex-Nine Inch Nails, currently manning the kit for Weezer) killed it on tracks "The Outsider" and "Pet." The highlight of the show was a haunting rendition of Thirteenth Step's "The Nurse Who Loved Me," a cover of a 1996 song by L.A. rockers Failure. At no other point were audience and performer so unified. Read the review of A Perfect Circle's third night, performing eMOTIVe >>
Setlist:
The Package
Weak and Powerless
The Noose
Blue
Vanishing
A Stranger
The Outsider
Crimes
The Nurse Who Loved Me
Pet
Lullaby
Gravity
Imagine
Night three featured songs from eMOTIVe, A Perfect Circle's 2004 album of cover songs cherry-picked to express ideas relevant to the war-focused culture of post-9/11 America. Closely tied to themes pervading the nation during the Bush vs. Kerry election of 2004, the record hasn't aged nearly as well as 2001's Mer de Noms or 2003's Thirteenth Step. Instead, it's notable to A Perfect Circle fans for its two original songs.
Saturday's performance of eMOTIVe lacked that magical something that made Thursday and Friday a joy to witness — and it also seemed that the crowd was populated by loads of fans who couldn't get tickets to the earlier nights' performances of Mer de Noms and Thirteenth Step.
Several of the cover tracks from eMOTIVe had never been played live before Saturday, and, after hearing them, it's not hard to imagine why. But if there is a cover A Perfect Circle has truly made its own, it is "Imagine." The band performed their brooding take on the John Lennon classic during the encore on both Thursday and Friday nights, and hearing it again for the third time on Saturday's show in no way tarnished its splendor.
It should come as no surprise that "Passive" and "Counting Bodies Like Sheep to the Rhythm of the War Drums," the two original tracks on eMOTIVe, were the most electrically-charged of the night. Keenan's voice — which he admitted to be a bit worn down on his third consecutive night onstage — returned to full strength, and was supported by cosmically spiraling guitar solos from Billy Howerdel and drummer Josh Freese's cacophonous thump.
Perhaps a bit more relaxed with two shows under their belts, the band stepped up its interaction with the audience on Saturday. At one point, rhythm guitarist (and ex-Smashing Pumpkin) James Iha even told a few jokes.
"Where does a penguin keep his money," Iha asked the audience. "In a snow bank."
But it was Maynard James Keenan's solo performance of Joni Mitchell's "The Fiddle and the Drum" that exemplified these first three shows of a reunited A Perfect Circle. Halfway through he hit the wrong key and said, "See? That's what happens," but then continued the piece to the cheers of the audience. As with each of the three nights, it was a satisfying performance, but hardly perfect. Read the review of A Perfect Circle's opening night, performing Mer de Noms >>
Setlist:
Annihilation
Imagine
Peace, Love and Understanding
What's Going On
Passive
Gimmie Gimmie Gimmie
People Are People
Freedon of Choice
Let's Have a War
Counting Bodies Like Sheep to the Rhythm of the War Drums
When the Levee Breaks
The Fiddle and the Drum
Weak and Powerless