The King of Pop may be gone – but new music is on the way!
On December 14, Epic Records will release Michael, a collection of "newly completed recordings" that includes the unheard track "Breaking News." Starting Monday, that song will be streaming for one week only on Michael Jackson's official site, while a teaser will be available on his site later today. The album art (shown above) depicts Jackson throughout various stages of his career, from his early Motown years through his Dangerous days.
Despite his legal and personal troubles in the last days of his life, Jackson was continually working on new songs. The tracks on Michael will include material recorded in studios in New Jersey, Las Vegas, and Los Angeles, which he cut with "a small group of handpicked collaborators," according to his label.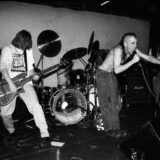 "Fans will get mind-blowing insight into how this artist worked and a chance to hear the songs he most recently created along with tracks that Michael had a desire to bring to fruition," Jackson's label said in a statement.
Earlier this week, TMZ reported that five of the songs on the album were recorded by Jackson and producer Eddie Cascio in New Jersey in 2007. But Jackson's children have questioned the authenticity of those songs: Jackson's daughter Paris is "adamant" that it is not her father's voice on the tracks in question. Still, Jackson's Estate claims there are sound experts who can confirm their authenticity, according to TMZ.