A lot of ink has been spilled the past two weeks regarding one Kanye West of Chicago and what it all means and how his PR gaffes and his unimpeachable art are hopelessly, sublimely intertwined, the yin and yang of the same rampant ego. (Love or hate, who else in pop spurs this level of deconstruction and gossip?)
But finally, on the night of My Beautiful Dark Twisted Fantasy's release, Kanye West packed his outsized persona and outsized album into Manhattan's undersized (and oversold) Bowery Ballroom for a cameo-studded track-by-track tour de force that would surely send his audience – the ones who actually made it into the venue, anyway – back out into the crisp November night talking about nothing except his performance and his star power and, above all, the music.
So close.
For over an hour and a half, West commanded the 550-person capacity room, from the opening benediction of "Dark Fantasy" through an extended freak-out coda on "Lost in the World," and hitting all MBDTF stops in between.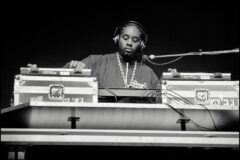 Standing onstage for much of this was backup singer Teyana Taylor and Bon Iver's Justin Vernon, who has somehow parlayed one incongruently Auto-Tuned track from a low-key four-song EP into rap's most curious hypeman gig. But front and center before an arena's worth of lights, was West himself, in a gray military-style pea coat with gold buttons, spewing lines that, thanks to G.O.O.D. Fridays, already feel canonical, even though, technically speaking, they were just becoming available to the world a day earlier.
Some of West's strongest moments were simple and relatively bare-boned: the furious last verses of "Gorgeous" and "Hell of a Life" delivered a capella, the self-fulfilling superhero-anthem prophecy of "Power," the pared-down "Runaway."
"All of the Lights," brought to its art-directed conclusion, was thrilling, if decidedly less bare-bones.
But just as no discussion of MBDTF can avoid its high-wattage roster of guest stars, neither can a live reinterpretation of the album; no Jay-Z, Nicki Minaj's "Dark Fantasy" intro was on tape, though she came out for her instant-classic "Monster" verse, while Rick Ross emerged for his "Devil in a New Dress" feature spot.
Swizz Beatz, Pusha T, and Cyhi the Prince all stepped forward for "So Appalled," and "Blame Game" brought out John Legend, but alas, no Chris Rock. (The modest dressing room at Bowery must have been dangerously beyond capacity.)
Then, an encore leading with the non-album G.O.O.D. Friday track "Christian Dior Denim Flow" (lyric cheat sheet present and forgiven) and abridged versions of "Can't Tell Me Nothing" and "Paranoid" and "The Good Life" and then rapturous applause and goodbye, drive safe, thanks to the magazines (!) for the rave reviews and to the fans for braving the lines to celebrate a joyous end to a difficult year, and then…
…And then…he just didn't stop talking.
He asked for the music to be turned down and you just knew you were at a wedding where the best man's speech was gonna end with the microphone being wrestled out of his hands. There was the release-day numbers report (100,000 downloads, on track to hit No. 1 with 600,000 copies sold), which soon devolved into a full-bore rant on Familiar Topics, namely the one from "last year" (Taylor) and the one from "five years ago" (Katrina). How his treatment on the Today show was tantamount to a secretly abused child being hit in public for all to see. How Bush's recent comments about West were twisted to make the ex-president seem even more clueless (actually true, this) and to further the media's agenda of "villainizing" public figures. How Taylor Swift "rode" the VMA brouhaha more than he did and how he would have lingered on that stage even longer had he not been so drunk. How all this demonizing only strengthened his artistic resolve. And a bunch of other stuff. Ten minutes, maybe? And sure enough, when everyone stepped back out into the crisp November night, no one was talking about the music. But, of course, everyone was talking.
To put on a performance like that and have it still be the second-most audacious thing Kanye West did onstage all night is a singular, if perhaps unenviable talent. For a guy whose biggest gripe is that he gets too much attention for the sideshows and not enough for the main event, his apparent obliviousness to his own role in that conundrum (especially on this night of all nights) is never not shocking.
Or, perhaps to his chagrin, entertaining, hence the subsequent attention. (Tired of this guy's bullshit? Then make an album more compelling than his and maybe we can all talk about that instead.) Kanye West's music has to work extra hard to be heard over his own racket, which is as much strategy as sabotage, although maybe not a recommended one. And it's a pretty spectacular thing to witness from 20 feet away.
More Kanye West on SPIN.com:
Watch Kanye West's "Power" Video >>
Read '5 Ways Kanye West's Life Is Better Than Yours' >>
Check out Kanye's January 2008 cover story in SPIN >>