Eminem and Rihanna's haunting duet "Love the Way You Lie" has been one of the biggest smashes of the year: Since its release, the single has spent eight weeks at Number 1 on the Billboard chart and currently sits at Number 12.
The duo have teamed up again for a sequel to the song, which will appear on Rihanna's upcoming Loud, out November 16. Hear it below.
Em and Rihanna don't mess with the formula of the original too much. "Part 2" serves mostly as Rihanna's female response to the abusive lover character played by Em. The track centers around her irresistible chorus, with heartbreaking lyrics like, "So maybe I'm a masochist / I try to run but I don't want to ever leave / Until the walls are going up in smoke with all our memories."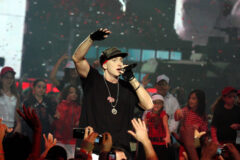 Eminem delivers his verse near the end – and he's as aggro as he was on "Part 1." "I may have hit you three times, I'm starting to lose count," he screams.