There is exactly one stage prop at a Grinderman show: a massive, all-encompassing tarp that encircles the performance space from floor to ceiling. It's not much to look at, but it says a whole lot about what's to come: If you're going to dish out dirty, trashy rock'n'roll, you'd best do it in a big-ass garbage bag.
That was the only special effect required on the launch of Grinderman's North American tour last night at Toronto's way-sold-out Phoenix Concert Theatre. The ungodly squall produced by original goth-father Nick Cave and three of his fellow moonlighting Bad Seeds (guitarist/violinist Warren Ellis, bassist Martyn Casey, and drummer Jim Sclavunos) was powerful enough to induce seizures, panic attacks, and hallucinations without any superfluous stimuli. Just as Grinderman's two releases to date — 2007's self-titled effort and the recently released Grinderman 2 — posit the band as the Bad Seeds' more feral alter-ego, the live Grinderman experience makes the recorded incarnation seem disarmingly tame in comparison.
A great deal of Grinderman's ferocity has been attributed to Cave's neophyte approach to the electric guitar, an instrument that the 53-year-old frontman only picked up for the first time on Grinderman's debut. But if Grinderman's recorded output represents an effort to push Cave outside of his usual comfort zone into more instrumental forms of expression, in concert, he immediately reassumes his mantle as one of rock's most compelling frontmen, with the guitar providing no impediment to his lithe physicality and desire to get right in the faces of the front-row spectators.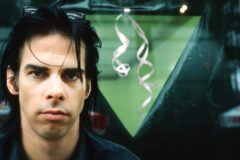 Cave didn't say much beyond a few brief song introductions, but then, given the relentless nature of Grinderman's performance, he might not have the wherewithal to make any kind of formal address. During the chain-gang blues of "Get It On," he became so lost in the song's guttural groove that he grabbed Ellis from behind and tossed him to the ground. In any other band, such unprompted assaults would provoke some sort of verbal or physical retaliation from the victim. But, as Ellis leapt right back onto his feet to continue bashing his cymbal set with maracas, it becomes clear that, in Grinderman, these sort of altercations are accepted as a mere occupational hazard.
Over the course of their 70-minute set, Grinderman played the entirety of their second album, and a good three-quarters of their first one, strategically deploying their more subdued material (acoustic campfire lullaby "What I Know," downcast elegy "Man in the Moon") to make their respective follow-ups (garage-punk rave-ups "Honey Bee" and "Love Bomb") feel all the more unhinged. But perhaps the most impressive show of force came three minutes into "When My Baby Comes" — as the song's swampy opening passage burst into a psychedelic sludgefeast of wah-wah'ed noise washes and falsetto harmonies, that onstage tarp literally rippled into waves. (The band's albums really provide scant indication of just how unforgivably heavy the Casey/Sclavunos battery truly is.)
Grinderman has often been interpreted as an attempt on Cave's part to reconnect with the anarchic wild-child abandon he exuded in early '80s Aussie post-punk miscreants the Birthday Party. But this reading denies the fact that Grinderman deal in distinctly middle-aged anxieties; last night, from the shattered sugar-daddy fantasies of "No Pussy Blues" to the domesticated depravity of "Kitchenette," the band summoned the sort of frustration and deep-seated discontent that only men with receding hairlines can muster.
As Cave and co. have correctly assumed, when it comes to producing primal rock'n'roll, teen angst ain't got nothing on midlife crises — and, on this night, their efforts were answered by a mostly male audience with a median age of 39 shrieking in ecstasy like a pack of teens at a Justin Bieber mall appearance.As Cave repeatedly exclaimed on "Kitchenette," "It's hard to relax, it's hard to relax" — but when set to Grinderman's atomic grunge, this cranky-old-man complaint became a self-empowering mantra.