Friendship is the prevailing vibe on To All My Friends, the latest EP from Minneapolis indie hip-hop mainstays Atmosphere, and that camaraderie spilled over onto the group's recent tour — also called "To All My Friends" — which featured fellow Rhymesayers artists Blueprint, Grieves, Budo & DJ Rare Groove. A new video for Atmosphere's song "The Best Day," premiering here, looks back at those fun days on the road. Watch it below.
Artist/merch man Isaac Arvold took all of the photos that appear in the video during the tour, and the video features them projected onto the sides of buildings, an RV, a van, and more.
The charming retrospective comes at a tough time for Atmosphere and the Rhymesayers crew: Their good friend and labelmate Michael "Eyedea" Larsen passed away suddenly on October 18. The MC will be honored during a November 9 benefit concert in Minneapolis — click here for more information.
Watch the video for "The Best Day" below, and tell us what you think in the comments section. To pick up the To All My Friends EP, click here.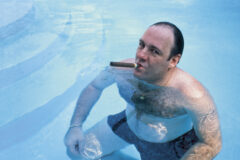 WATCH: Atmosphere, "The Best Day"