What would happen if George Michael and Andrew Ridgeley, better known together as Wham!, reunited and settled their differences over some holiday cocktails? For one answer, check out the alternate reality dreamed up by another British pop duo, the twee-rific Pete Hobbs and Jof Owen, aka the Boy Least Likely To, in their new video and song, "George and Michael." Watch the premiere below!
In the clip a faux Ridgeley sits in a quiet pub getting loaded on Christmas Eve when a man walks in, wearing a white linen suit, and it's none other than his old Wham!-mate.
They catch up, sign autographs, and ultimately start an impromptu gig (Ridgeley is conveniently wearing his "Choose Life" t-shirt underneath his street clothes), backed by the Boy Least Likely To:
"At Christmas time it's nice to get together with your friends /Especially the friends that you don't get to see much anymore," Owensings. "It isn't Wham! sitting in that pub on Christmas Eve / It's justtwo friends called George and Andrew / Who've known each other sincethey were 13."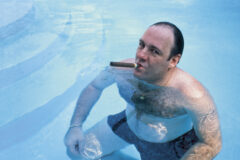 "I know I wanted to write a lyric about an enduring friendship, one that's always there, and that two people always come back to no matter how far apart their lives grow," Owen tells SPIN.
Owen, who cops to knowing quite a lot of random Wham! trivia, adds: "I always wonder if Andrew missed being in Wham! and if he ever felt like it finished too soon. I wonder what it must have felt like after their final concert, knowing that things would never be the same for him, and that even though George would still have a pop career, for Andrew that dream they'd shared since they were at school was pretty much over."
He also imagines his own Boy Least Likely To reunion, a few decades from now. "We'll talk about how when we were recording the first album we never expected anyone to ever listen to it, and how nice it was when so many people did," Owen says. "And we'll talk about growing up together, and all the stupid things we used to do when we were young, and how amazing it is that we've stayed friends all this time."
Watch the video below, and tell us what you think in the comments. The Boy Least Likely To's new holiday album, Christmas Special, is out today exclusively via iTunes.
WATCH: The Boy Least Likely To, "George and Andrew"