British indie pop duo Cornershop will release their sixth studio album, Cornershop & the Double 'O' Groove Of, on March 15 — the follow up to 2009's Judy Sucks a Lemon for Breakfast. Download the first single, "United Provinces of India," below.
For the first time, Cornershop will turn over the lion's share of lead vocal duties to someone other than frontman Tjinder Singh: Indian pop singer Bubbley Kaur takes the spotlight on the new album, and this new single — both culled from a project that's been in the works since Kaur guested on the band's now-classic 2004 single "Topknot," which also got a killer remix treatment with a guest vocal by M.I.A. (hear it here).
"A full-length album was started on [after 'Topknot' was recorded], and rather than rushing it, I thought I needed to take the time to put it out properly," explains Singh, whose 1997 breakthrough album When I Was Born for the 7th Time earned Album of the Year honors from SPIN. "It's the type of album I've wanted to have out since my youth and enthusiasm for raw Punjabi folk music — no auto-tune in sight."
And "United Provinces of India" is definitely just that, a gussied up, indie rockin' take on Indian pop — download it using the widget below. An email address is required, which goes to the band's mailing list.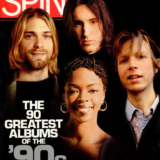 DOWNLOAD: Cornershop, "United Provinces of India"