After coming off hiatus in 2009, Blink-182 have been working in the studio on their first album since 2003. But now a finish line is in sight. In a post on his site, Mark Hoppus says the pop-punk trio will aim to release the album next April or May. One catch: "The only thing more important to us than getting the record out in that time is getting a great record out," Hoppus writes. "If it isn't absolutely ready at that point, we'll keep working until it is."
Hoppus divulged plenty of details about the new music. One track has a strong alt-country vibe, which has already been through several revisions. "The Americana, country-type song I've written about before is now in its third incarnation, and I think it gets better with every change," Hoppus writes.
But it's not like Blink-182 are moving to Nashville. Hoppus — the former SPIN columnist — promises plenty of high-energy pop-punk. "Yesterday, I worked on the basics of an uptempo, catchy progression; kind of in the vein of 'Wendy Clear' or 'Going Away to College.'"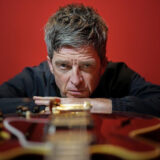 Still, Hoppus says the proof is in the music. "I guess it's really pointless to write about creating music, you'll hear it for yourselves soon enough and make your own judgements."
Are you excited for Blink-182's new album? Sound off in the comments.