If that old maxim, "The couple that plays together, stays together," is true, then Ben Gibbard and Zooey Deschanel's marriage just got way better.
Wednesday night at Seattle's Crocodile Café, Gibbard took a break from finishing up Death Cab for Cutie's new album to play an intimate solo set — and he invited his wife to join him onstage. And there's more! He covered Radiohead and debuted a brand new track, too. Watch video of all three below!
The show was a benefit for Teen Feed, a program that helps Seattle's homeless youths and is run by Gibbard's sister Megan.
Gibbard's untitled new song is a melancholy ballad about downtown Seattle after its landmark Space Needle was built. "But in 1962 the Needle made its big debut and everybody forgot what it outgrew," he sang.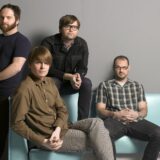 Gibbard also performed a sparse piano cover of Radiohead's "All I Need," and later invited Zooey up for a cover of the Seekers' 1968 tune "I'll Never Find Another You."
Watch video of all three below, then sound off in the comment section.
Gibbard & Deschanel, "I'll Never Find Another You":
https://www.youtube.com/embed/hFkqmsFwgrM?fs=1
Gibbard debuts new song:
https://www.youtube.com/embed/5qslZk0lRpE?fs=1
Gibbard covers Radiohead's "All I Need"
https://www.youtube.com/embed/2k6VifdTw1k?fs=1