When the Flaming Lips hit up Austin City Limits this year, frontman Wayne Coyne pulled off one of his wildest stunts yet: dude made a Flaming Lips ACL poster out of his own blood. Sick! Check out the video below.
Back in September, Coyne had a nurse draw four vials of blood from his arm, which Coyne used to pull a silkscreen poster. One lucky fan will be able to pick up a piece of Coyne's immortality when the poster goes up for auction soon.
In the clip, Coyne comes on like a bizarro Bob Ross, splattering and flicking his blood all over the poster. "I thought maybe coagulating would be the trick but it wasn't at all," he says. "That is cool and disgusting. Wow!" Indeed.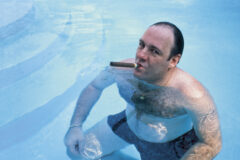 https://youtube.com/watch?v=tWOYXFU5boQ%3Ffs%3D1