It's only two episodes into the new season of Saturday Night Live but Kanye West delivered one of the show's most unique performances of all-time this weekend, performing blazing, elaborately staged versions of new songs "Power" and "Runaway." Check out West's musical spots below.
Typically, musical guests perform on SNL with the standard faux Grand Central Station backdrop, but West had different plans. The rapper, sporting an eye-popping red suit and chains that would make Mr. T envious, performed in front of a blinding, brightly lit white backdrop and brought a crew of dancing ballerinas. West had been rehearsing the production for two days, sometimes staying up as late as 3 A.M. to practice.
West is also logging late nights finishing up his new album, due out this fall. As SPIN reported last week, West reacted harshly to a leak of the new song "Lost in the World," featuring a sample of a Bon Iver song, promising not to give away more new music in his weekly download series G.O.O.D. Fridays.
But West had a change of heart and offered up "Christian Dior Denim Flow," featuring guest spots from Kid Cudi, Pusha T, John Legend, Lloyd Banks, and Ryan Leslie. Pick up the track for free here.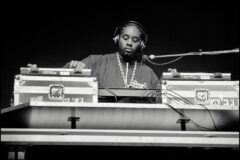 "Stronger"
https://www.youtube.com/embed/O-jr8ft7br8?fs=1