Last night, 60 Minutes aired a rare interview with Eminem, where the MC opened up about getting beat up as a kid, how rap music saved his life and his struggles to be accepted as a white rapper in his Detroit hometown.
But Eminem's most revealing moment came when he talked about his addiction to vicodin, valium, and ambien, an addiction so strong that it once caused him to overdose and almost suffer organ failure. "[Doctors] said if I got to the hospital two hours later, that would've been it," Eminem says about a near-fatal trip to the ER.
Eminem's interview wasn't all tabloid fodder, however. The rapper talked about the art of writing rhymes, going through boxes of scribbled down lyrics he's written over the years. Turns out there is a word in the English language that rhymes with "orange," as Eminem demonstrates.
"If you enunciate it and make it more than one syllable, you could say like, 'I put my orange four-inch door hinge in storage and ate porridge with George,'" Em says. "You just have to figure out the science to breaking down words."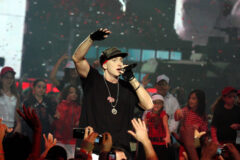 Check out the full interview below.
WATCH: