Slayer guitarist Kerry King is one pissed off dude. Onstage, he wields his six-string like a weapon, playing with ferocity and intensity. It's frightening, in a good way. But what fuels the fire inside him? "The stupidity of humanity," he says in a new video. Clearly, he's not a people person. Watch below!
"People are just fucking dumb," he says in the clip, filmed backstage on the Jagermeister tour with Megadeth and Anthrax. "In all aspects of life, be it a ballgame, an airport, a bus station, you have to interact with people and people are so inherently fucking stupid. I harbor that. It's something that happens every day. I'll be like, 'I'm in a great mood. I'll never make up lyrics today.' Just go out and mess around with people for a couple hours and come back fueled for the fire."
Thankfully, he channels his hatred for humanity into his guitar, rather than, you know, someone's face. "I dive into the beast that is Slayer and get mad at my guitar," he explains. "I'm not playing leads; I'm going to war."
Watch the video below, then sound off in the comment section. For more on the Jagermeister tour, read an exclusive joint interview with King, Megadeth's Dave Mustaine, and Anthrax's Scott Ian, right here.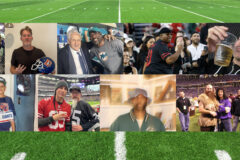 WATCH: Slayer's Kerry King on His Inspiration: 'Stupid People'
https://www.youtube.com/embed/3z6TifvxUmY?fs=1