On Friday night in Hollywood, Say Anything offered their co-headlining tour with Motion City Soundtrack and Saves The Day a supercharged show of their best emo-punk hits – plus a couple of deep cuts.
For Say Anything, the gig was a hometown celebration, and frontman Max Bemis even called it one of the band's best local gigs ever. "I have a pretty shoddy memory," he said. "But I think this is the best L.A. show I remember. You have so much energy it's beautiful."
Indeed. Through Say Anything's 16-song, hour-long set, the band's rabid fanbase responded with passionate sing-a-longs. Highlights included set opener "Crush'd," and early cuts like "Little Girls" and "Woe," from the band's 2004 debut …Is A Real Boy.
Say Anything also busted out a few rarities, much to the joy of the band's know-it-all fans. Bemis led the band through "Crawl," a song from his Two Tongues side-project with Chris Conley, as well as "Colorblind," a track from the never-offically-released 2001 disc Baseball: An Album By Sayanything. Perhaps not surprisingly, most of the crowd knew the words to those rarities, too.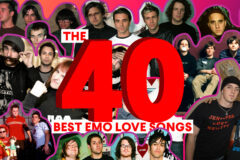 One downside to Say Anything's set was the omission of their hot anthem "Hate Everyone," but their show was all about the band-audience synergy. "There are a lot of pretentious bands that don't give a shit about the people who come to see them," Bemis told the crowd. "We are not one of them. We love you."
Earlier in the night, Motion City Soundtrack made the most of their opening slot, performing like racehorses for a non-stop 50 minutes.
Pogoing around stage, frontman Justin Pierre steered his quintet through an aerobics-friendly set of raging pop-punk tunes like "Let's Get Fucked Up and Die" and an amped-up "Don't Call It A Comeback."
The only time MCS slowed down was when Pierre asked the venue to turn on the house lights to check on a fan who took a tumble in the mosh pit. Turns out, he was OK.
Saves the Day, meanwhile, delivered a reliably crunchy set of Weezer-esque punk, including the title track from the new 1984 EP plus a cathartic new anthem "Let It All Go."
Both of those tunes will appear on next year's Daybreak, the final part of an album trilogy that started with 2006's Sound the Alarm. And while the tracks followed a tried-and-true emo-pop formula, Saves The Day delivered versions that sounded fresh to the faithful at the Avalon.Say Anything's setlist
Crush'd
Little Girls
Woe
Baby Girl, I'm a Blur
Less Cute
Yellow Cat (Slash) Red Cat
Alive With the Glory of Love
Crawl
Wow, I Can Get Sexual Too
Spay Me
She Won't Follow You
Colorblind
Do Better
Belt
Plea
Admit It!!!
Motion City Soundtrack setlist
The Weakends
Everything Is Alright
A Lifeless Ordinary
Feel Like Rain
This Is For Real
Let's Get Fucked Up and Die
Worker Bee
My Favorite Accident
Make Out Kids
Time Turned Fragile
Her Words Destroyed My Planet
Pulp Fiction
Don't Call It a Comeback
Disappear
The Future Freaks Me Out