During this year's Austin City Limits Music Festival in Austin, TX, artists stopped by the American Express® ZYNC ZONE, to chat with SPIN about their summer festival experiences and much more, among them psychadelic rock act Portugal. The Man– watch our video interview, plus performance footage below!
Fans come first for Alaska's Portugal. The Man.Bassist Zachary Carothers said the band recently held an online contest for five fans to come eat breakfast with the band.The band and the lucky winners chowed down and they gave away a signed guitar and tickets to a show.
"We always like to stay real connected with our fans anway we can," Carothers said.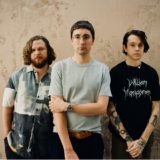 Festivals are a way of getting the band's music out to those who wouldn't normally hear it, Carothers said.
"Hopefully we have an 'on' day and impress some people, get them to come out to our shows," he said.
See our exclusive interview with PTM below, and click here to check out more interviews from the American Express® ZYNC ZONE!