For the last week, Kanye West has been flying across the country to premiere his 35-minute "Runaway" music video to select audiences, but the rapper will finally unveil the extended clip this weekend for the rest of the world.
"Runaway" will debut Saturday night at 8 P.M. on Vevo, with simultaneous broadcasts on VH1 and MTV. Following the premiere, West will sit with MTV to take fans' questions via Twitter using the hashtag #askkanye.
At Thursday night's premiere in New York, Kanye introduced the screening, telling the packed audience about his rock-star ambitions for the video. "Think big, set your goals high," he said. "I mean, a 35-minute film – we did it. We so Seventies right now. We rock stars, fuck y'all's opinion."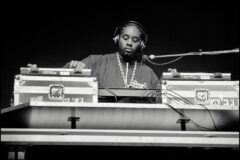 "Runaway" chronicles a Phoenix-like character, played by model Selita Ebanks, as she falls to Earth – only to be rescued by Kanye. There are also fireballs, sports cars, sheep, a Michael Jackson statue, a Scottish marching band, and Nicki Minaj narrating in a British accent.Whoa!
In the meantime, revisit the trailer for "Runaway" below.
https://youtube.com/watch?v=KK92Fbd6hjo%3Ffs%3D1