Nicki Minaj, Jay-Z and Drake were among the top winners at this year's BET Awards, with up-and-comer Minaj taking home three awards, including Rookie of the Year. "I'm paving the way for girls," said Minaj, who was dressed provocatively in a get-up made of black leather straps. "I wanna thank all the girls of hip-hop."
But it wasn't just hip-hop newcomers who took home top prizes. Jay-Z (who wasn't present) took home the award for Best Hip-Hop Video for "Empire State of Mind," CD of the Year for The Blueprint 3 and Best Live Performer. Diddy scored Hustler of the Year; Swizz Beatz was honored as Producer of the Year and rap pioneers Salt-N-Pepa took home the I Am Hip-Hop Award. Check out the full list of winners below.
Plenty of memorable performances dotted the night. Rick Ross, Diddy, and DJ Khaled kicked off the show with a powerhouse performance of "B.M.F. (Blowin' Money Fast)" and "MC Hammer." The latter track featured a surprise performance from Hammer, who topped off the track with his classic hit "2 Legit 2 Quit." Other highlights included performances by Digital Underground, Gucci Mane, B.o.B. and Big Boi.
The full awards show will be broadcast on BET on October 12.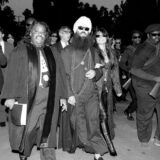 BET's Hip-Hop Awards 2010 Winners:
Verizon People's Champ Award:Nicki Minaj, "Your Love"
Reese's Perfect Combo Award:Jay-Z and Alicia Keys, "Empire State of Mind"
Best Hip Hop Video:Jay-Z and Alicia Keys, "Empire State of Mind"
Best Live Performer:Jay-Z
CD of the Year:Jay-Z, The Blueprint 3
Track of the Year:"B.M.F. (Blowin' Money Fast)" produced by Lex Luger (Rick Ross f. Styles P)
Rookie of the Year:Nicki Minaj
Hustler of the Year:Diddy
Made-You-Look Award:Nicki Minaj
Best Club Banger:"B.M.B. (Blowin' Money Fast)," produced by Lex Luger (Rick Ross f. Styles P)
MVP of the Year:Drake
Producer of the Year:Swizz Beatz
DJ of the Year:DJ Khaled
I Am Hip-Hop Award:Salt-N-Pepa