When he's not playing drums in his day jobs with the Red Hot Chili Peppers or supergroup Chickenfoot, Chad Smith cuts loose with a jazz-funk-fusion side-project dubbed The Bombastic Meatbats. Smith – along with guitarist Jeff Kollman, keyboardist Ed Roth, and bassist Kevin Chown – have dropped their second album and the set is crammed with enough thrilling, stretched-out tracks to give a Phish-head a contact high. Check out a stream of the song "And We All Swing the Tuna" below.
Smith tells SPIN.com that the album is meant to be a loose, carefree project, from groovy psychedelic numbers like "Mountain of Meat" to goofy song titles like "Dr. Blotter & Miss Purple (Ride in the Echoplex)."
"We're not trying to compete with the Lady Gagas of the world – this is just a fun thing for us," Smith says. As for the meaning of the title "And We All Swing the Tuna" specifically, Smith reveals it was inspired by a real-life run-in with a couple he discovered mid-coitus at his rehearsal space.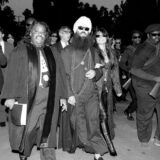 "I think shortly before I arrived they were engaged in some sort act, him pleasing her in some way," Smith says with a laugh. "Well, that's what the overall sense of what was wafting through the room. When I told my guys in the band about it, I just said somebody was swinging a 30-pound tuna in that room."
Smith is hitting the road for a few select dates in late-October and early-November; check out itinerary here and stream "Tuna" below.
The Bombastic Meatbats, "And We All Swing The Tuna"