During this year's Austin City Limits Music Festival in Austin, TX, artists stopped by the American Express® ZYNC ZONE, to chat with SPIN about their summer festival experiences and much more, among them Oxford England's Foals– watch our video interview, plus performance footage below!
For frontman Yannis Philippakis and Foals, their live performances are all about the music.
"We have a way of thinking before we play, not matter what the occasion it's usually don't think about anything but allow ourselves to be vessels for the music," he said.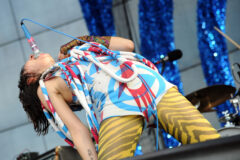 Growing up the band was heavily into the Seattle grunge scene and now calls one of that scene's purveyors, Sub Pop Records, home.
"The first bands I got into were Seattle grunge bands.To think we're at the same level is pretty sweet," Philippakis said."We might not be an obvious choice as a Sub Pop band, but we share similar values about things."
See our exclusive interview with Foals below, and click here to check out more interviews from the American Express® ZYNC ZONE!Scalable, non-watermarked