Dr. Dre has been working on his highly-anticipated album Detox for years, but the rapper may finally release the record this year. At a New York City press conference to promote his Beats by Dre headphones, Dre told the crowd he hopes to release new music by Christmas. "In a perfect world, you know, I'm really trying to make Christmas, but we'll see… Something will definitely be out," he said. Dre didn't specify whether or not that new "music" would be the album Detox.
Dre did add that he has been working on music non-stop, telling the crowd, "I'm working on it every day." Interscope chairman Jimmy Iovine — who head's Dre's label — was also at the event and talked about new music he heard that afternoon from Detox: "He just played something for us back there. He's got two new songs that are just incredible."
Back in April, Dre revealed the lead-single from Detox would be a Jay-Z collaboration titled "Under Pressure," which leaked online two months later.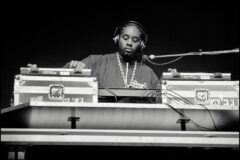 And as if Dre didn't already have his hands full, the rapper announced in August that he's working on a concept album about planets, saying the tracks are his "interpretation of what each planet sounds like."
Do you think Detox will see the light of day in 2010? Sound off in the comments.