Thom Yorke brought his star-studded side project Atoms for Peace to the states for a brief tour in April last year. Missed out? Some stunning high-definition footage of his new band, featuring Flea, has just hit the web.
In the three clips — shot at Japan's Fuji Rock Festival last month — Atoms for Peace tear through get their electro-funk groove on with "Feeling Pulled Apart by Horses," lay out a cool, avant-garde jam with "Paperbag Writer" and dip into some tribal beat trickery with "And It Rained Last Night."
Bonus: See Thom Yorke wiggle around the stage doing the hippie-noodle dance! Check out the clips below.
Don't expect Atoms for Peace to return anytime soon. As SPIN previously reported, Radiohead are gearing up for a new record, according to bassist Colin Greenwood. "[We've] just finished another group of songs and have begun to wonder how to release them in a digital landscape that's changed again," he wrote in a U.K. article.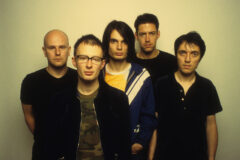 What do you think of these Atoms for Peace videos? Sound off in the comments.
"Feeling Pulled Apart By Horses"
https://www.youtube.com/embed/shUbr-Wvv0A?fs=1
"Paperbag Writer / The Hollow Earth"
https://www.youtube.com/embed/7NgrFWx5pp8?fs=1
"And It Rained All Night / Cymbal Rush"
https://www.youtube.com/embed/Vj1fri11GbA?fs=1