Since 2005, OK Go have boosted their music career by producing insanely viral clips for videos to Here It Goes Again" and "This Too Shall Pass." Now, the L.A. crew as released their latest ambitious clip for the track "White Knuckles." Watch it below.
It features coordinating white outfits, dozens of stacked plastic cones, swivel-chair dancing — and army of acrobatic rescue dogs. "These four-legged rock stars worked harder (and with a lot less complaining) than we did, and never ceased to make us smile," the band writes on its site.
Cool bonus: the band is donating a portion of all video sales through their site to the ASPCA. Check out the choreographed insanity below!
WATCH: OK Go, "White Knuckles"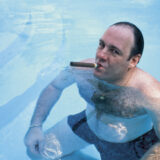 https://youtube.com/watch?v=nHlJODYBLKs%3Ffs%3D1