While his other collaboration with a rock'n'roll lead singer-the multiple MTV VMA-nominated "Airplanes," featuring Paramore's Hayley Williams (watch here)-explored deeper emotional territory, Atlanta rapper B.o.B's track featuring Weezer's Rivers Cuomo is all party, all the time. Watch the just-released video for "Magic" below.
In the clip, B.o.B isn't quite sure if he's asleep or awake, but he does know that there's a raging house party blowing up in his crib-with hot girls dancing up a storm and eating Fruity Pebbles out of his bathroom sink.
Out on the front lawn, Cuomo and B.o.B join forces to perform for a huge crowd, with the Weezer man taking his best, whitest stab at hip-hop stage moves while signing about how every track he touches turns to gold, and how girls come snappin' at him when he hits the floor. Word!
The song is off B.o.B's breakthrough album, The Adventures of Bobby Ray.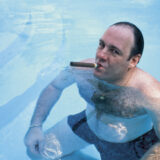 Watch "Magic" and tell us what you think in the comments section.
WATCH: B.o.B., "Magic ft. Weezer's Rivers Cuomo"