Lots of pop stars tweet — but all that Twitters is not gold.
That's why you'll want to check out SPIN.com every Friday to see whose tweets we're reading this week-then update your TweetDeck! (Obligatory Self-Promotion: …while you're at it, be sure to follow @SPINmagazine!)
50 Cent @50cent
Why You Should Follow: When he's not recording, performing, or hawking Vitamin Water, 50 Cent is on Twitter, blowing off steam. No topic is too personal or too risqué-he tweet-flirts with porn stars, makes fun of his own parenting skills ("I'm a holidays dad. My son only likes me when its xmas time. I prolly wouldn't recognize him if he aint had his hands out when I see him"), and gives shout-outs to "all the groupies that never made it through the entourage to the important dick." He also shares off-color stories about Tony Yayo and Lloyd Banks, his childhood friends and fellow G-Unit members, and does anything he can to antagonize gossip blogger Perez Hilton. Even though his tweets are often harsh ("Man I aint even feeding these hoes. A bitch want a free meal she should go to the shelter. I'm hard on a hoe cause its hard out here!"), it's clear that Fiddy has a softer side, too: He recently tweeted that he bought a porcelain teacup for his grandmother. Of course, he also bought a porcelain gun for himself, but still… awww!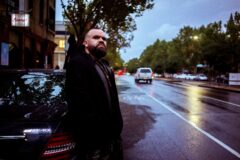 Best Tweet of the Week: "I played Em some new music. he was like u gone kill them with that but he kept making me play a few over and over so I'm only keeping those"
Das Racist @dasracist
Why You Should Follow: This Brooklyn-based art-rap duo (or "brand," as they like to call themselves on Twitter) recently made SPIN's 20 Best Songs of Summer list with their funky Billy Joel-sampling track "You Oughta Know." Their tweets are just as entertaining and absurd as their music-they dabble in astrology ("mercury in retrograde really fucking with me"), share fun facts from their "white college" years ("victor had a rap project call king cobra while i rapped as country club before we was friends"), and threaten anyone who thinks they're just "some hipster shit" ("SEE ME IN THE STREET, I MEAN THAT. SQUAWKIN AT YOU WACK HUMAN BEINGS!!!"). Look out for tweets about their second mix tape, which drops this Tuesday and features production by Diplo and collaborations with Teen Girl Fantasy, Chairlift, and El-P, to name just a few.
Best Tweet of the Week: "ethnic youthy followers, if you gotta ask your parents for something don't forget to do it while they're watchin their novella/drama"
Lily Allen @lilyroseallen
Why You Should Follow: We've been longtime fans of this British pop star's tweets, but they've gotten even better lately; now that she's pregnant with boyfriend Sam Cooper's child, she's spending more time talking music, politics, fashion, and cricket with her more than two million followers on Twitter. She poses questions for fans to discuss ("What happened to streaking? Or are we too body conscious these days?"), names her picks for big awards like Mercury Prize ("XX or Laura Marling please," she tweeted just before the XX were announced as winners), and shares pictures of the clothes and jewelry she designed for her Lucy in Disguise clothing line (the first Lucy in Disguise shop is opening in London's Covent Garden on Sep. 18). Bonus points: She's not afraid to stick up for herself when people throw mean tweets at her, and she stands up for her friends (like @kanyewest), too!
Best Tweet of the Week: "David Cameron just turned up to pick up politician of the year at GQ. Pass me the bucket, morning sickness is back."