The sisters in Swedish duo First Aid Kit are still teens, but their musical roots are comparatively ancient: Once can hear influences of the Carter Family, Joan Baez, and Loretta Lynn in their debut U.S. album, The Big Black and the Blue, including the pretty, but sad single "Ghost Town." Watch the song's new video below.
In the clip, shot this summer outside of Stockholm, the Söderberg sisters — Johanna, 19, and Klara, 17 — wander through romantic fields of wheat at dusk in their lacy white gowns. But cutaways to the girls wearing scary skull masks and journeying into the dark woods temper the clip's serenity.
"We're all about those contrasts, between the happy and sad, between the dark and the light," says Johanna. "The tune has that double meaning, too."
Adds Klara: "We love that vibe in old movies, and in country music too, where there's sad lyrics with cheerful melodies."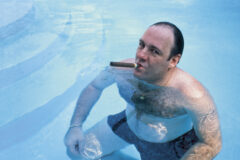 "Picnic at Hanging Rock [director Peter Weir's 1975 film, which takes place around 1900] is about these girls in Australia who get lost in the woods and disappear from society, and we just love that movie," Johanna says. "It's super mysterious," says Klara. "And Virgin Suicides, too. That was also an inspiration."
The simple acoustic guitar and harmonized vocals sound like something out of another era, and Klara explains how they came to love such timeless sounds. "When I was like 12 I started listening to Bright Eyes because a friend suggested I should, then I read about his influences and found Bob Dylan, and Leonard Cohen," she says. "Bob Dylan said he was inspired by the Carter Family, so I started listening to them."
Watch the video and tell us what you think in the comments. You can read more about First Aid Kit in the September 2010 issue of SPIN, and catch them on a U.S. tour, starting Sept. 30 in Seattle. Click here for dates.
WATCH: First Aid Kit, "Ghost Town"