The night before the release of its exuberant new album False Priest, Of Montreal began its U.S. tour with the first of two sold-out shows Monday at Washington, D.C.'s 9:30 Club. But singer-songwriter Kevin Barnes' new music wasn't enough to sustain a poorly paced, overly long set. Rather than a triumphant bow, the tour's first night played more like an out-of-town tryout. Of Montreal was easily upstaged by its hand-picked opener, Janelle Monae.
Of Montreal's set began energetically, with the new "Coquet Coquette" and the first appearance of the four costumed performers who complemented the band's current eight-person lineup. Two towering fish-headed ETs entered, seemingly walking on spindly metal legs. They were followed by a pair of silver-clad angels who spun across the stage as Barnes stepped into view, clad in green high-heel boots, matching blouse, plaid jacket and chiffon pouf skirt. Barnes' outfit seemed as outlandishly apt as his falsetto.
While four of the white-clad musicians played keyboards at least part of the time, electronic timbres were downplayed in favor of a more rock-oriented sound; most of the solos spotlighted guitar, with a few slower songs featuring violin.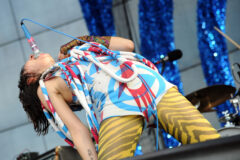 Barnes held the crowd's attention with the occasional sing-along–he asked everyone to hoot like "a hungry owl"–and such swaggering tunes as "Sex Karma," which purred that "you look like a playground to me." But the show dawdled, with dead air between numbers. And the elaborate set pieces often seemed more trouble than they were worth. Dancing fire demons, skull-headed beings, and a giant TV set came and went, making little impact.
Some of the problem was timing, which will surely improve as the tour continues. And the band did get its groove partially back with its final song, a Michael Jackson medley that peaked with "Wanna Be Startin' Somethin'," the finest song Jacko ever borrowed (from Manu Dibango). But by that time, half the audience had left.
Three hours earlier, the energy crackled as Monae took the stage, and her 55-minute set didn't sap the crowd's ardor the way Of Montreal's nearly two-hour one did.
As fiercely eclectic as the headliner, the pompadoured singer moved from space-funk to lounge jazz to Princely soul-rock, rarely stumbling. Monae's vocal acrobatics were sometimes more athletic than expressive, and the video backdrop underscored her inspirations a little too blatantly. (When the singer did hardest-working-woman-in-showbiz schtik, we didn't need to see James Brown's image above her head.) On such ravers as "Dance or Die" and "Tightrope," however, self-consciousness was erased by irresistible rhythms.
Although Barnes and Monae appear on each other's latest albums, they didn't share the stage at the 9:30 Club. A Monae cameo would have boosted Of Montreal, who needed an infusion of spirit. But the band's opening act did fine on her own, commanding the first show on a tour that will surely end with her as a headliner.