Alt-rock vet Maynard James Keenan is planning to release a new DVD with his band Puscifer in early 2011-and he's courting a few new collaborators for the project: Ron Livingston (Band of Brothers, Office Space) and Lizzy Caplan (Hot Tub Time Machine, True Blood), his co-stars in an upcoming independent comedy film, Queens of Country.
"I dangled a carrot in front of [them]," Keenan tells SPIN.com. "I showed them some of stuff we were doing with Puscifer and of course those guys were totally like, 'We wanna do something!' So hopefully I can hold them to their drunken word."
The DVD from Puscifer-Keenan's revolving cast of musicians and comedians, including Resident Evil hearthrob Milla Jovovich, comedian Brian Posehn, and Primus drummer Tim Alexander-will feature new and old comedy skits and live performance footage. Read our review of the band's first tour date-one of the 30 Best Shows of 2009–here.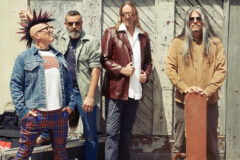 After the DVD's release fans can expect Puscifer to return to the road, but not before then. "People have weird expectations-they expect a band. Just a band," Keenan says of Puscifer's variety-show-like approach. "Until you actually show them the DVD with these episodes with performances and characters and animation, we're still going to have people coming down thinking this is only a band, when it's actually something different."
In addition to Puscifer, Keenan is currently harvesting grapes at his Arizona vineyards for his Caduceus Cellars wines and promoting Blood Into Wine, a documentary film about the process.
New music from Tool is also in the works. "They are getting together and writing," he says of bandmates drummer Danny Carey, guitarist Adam Jones, and bassist Justin Chancellor. "I'll be popping back into L.A. soon to check in."