Watch the Throne, the mini-album collaboration between Kanye West and Jay-Z, is adding guest stars at a rapid pace, with West announcing that Tribe Called Quest's Q-Tip, beatsmith Pete Rock, and producer Madlib will contribute to the project.
"We got new Pete Rock joints on the Watch the Thrown [sic] album, Q-Tip joints," West tweeted. "We bout to spit on this Madlib beat."
West dropped the news in the wake of releasing "So Appalled," , featuring Jay-Z, RZA, the Clipse's Pusha T, and Swizz Beatz — it's a Watch the Throne cut and one of West's free "G.O.O.D. Friday" downloads. Download it here.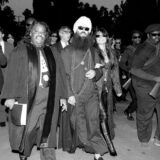 "Monster," another Watch the Throne cut featuring West, Jay-Z, indie crooner Bon Iver, Nicki Minaj, and Rick Ross, emerged in August — Grab it here.
Who else would you like to see on the Kanye-Jay-Z album? Tell us in the comments.