Jenny Lewis and Johnathan Rice played the first of two gigs at San Francisco's Great American Music Hall Thursday night (their third show ever under the new Jenny & Johnny moniker) to a capacity crowd who already knew most of the words to songs that had been released just two days before.
Such are the loyal Jenny fans, who can recite Rilo Kiley lyrics and debate which songs on J&J's debut album, I'm Having Fun Now, are initially the best-and which stand out after repeated listens.
Without saying a word, Lewis, Rice, guitarist Tod Wisenbaker (of Whispertown2000), and drummer Jason Boesel (Rilo Kiley) launched into "Scissor Runner," the dreamy, peppy pop ditty that opens I'm Having Fun Now and announces that "a scissor runner stole my heart."
It made sense that Lewis, in particular, would want to open both the album and the show with such a breath of fresh air: After hearing Lewis channel her inner Linda Ronstadt on her recent solo releases, it seems like fans are once again getting a glimpse of the singer they fell in love with on Rilo Kiley's The Execution Of All Things. And in the process, it sounds like she's having more fun than she's had in years.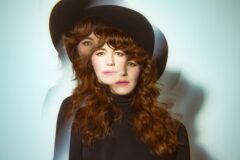 Sporting a sleeveless jean jacket that matched the playful retro-kids-in-love artwork that adorns I'm Having Fun Now, Lewis joined Rice in sticking to the business of playing the new songs. All but one, "While Men Are Dreaming," made it onto the setlist.
Still, they found the energy to banter a bit, with Lewis asking about neighboring strip clubs (the infamous O'Farrell Theatre is next door) before Rice introduced the folk-poppy "Just Like Zeus" as a "song about all the strip clubs in L.A. that Jenny drags me to."
Lewis and Rice shared vocals, sometimes harmonizing and other times going tag team. Lewis even took part in a brief drum jam session with Boesel at the end of the S&M groove thing "Slavedriver."
After getting everyone swooning with the My Morning Jacket-sitting-around-the-campfire-like "Switchblade," Jenny and Johnny made their only real missteps of the night by revisiting the Acid Tongue era, airing out all nine blues-rock minutes of "The Next Messiah" and acoustically covering "Love Hurts."
But all's well that ends well. Even though the band didn't do an encore, despite all of the hooting and hollering that continued after the house lights went up, they did close with "Big Wave," a bubbly pop tune about California going bankrupt. That kind of juxtaposition is right in Lewis' wheelhouse.
Setlist for Jenny and Johnny:
Scissor Runner
New Yorker Cartoon
My Pet Snakes
Just like Zeus
Straight Edge Of The Blade
Slavedriver
Switchblade
The Next Messiah
Love Hurts
Committed
What Am I Going To Do?
Animal
Just One of the Guys
Big Wave