The arrest this summer of elusive alleged drug kingpin — and Jamaican folk hero — Christopher "Dudus" Coke served as a dramatic reminder that when it comes to partying at the crossroad between organized crime and pop music, rap's got nothing on dancehall. [Magazine Excerpt]

The Sun Sets behind Tivoli Gardens on a warm Wednesday evening in late June, shooting streaks of burnt-orange light between this West Kingston community's crumbling buildings. Tarrus Riley's "Good Girl Gone Bad" blares from three-foot speakers inside a small storefront that sits on Spanish Town Road, across from the concrete wall that runs along the neighborhood's northern edge.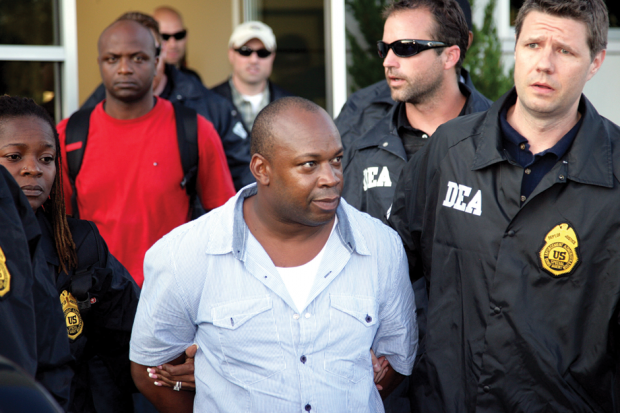 The store, a faded white building with blue trim called Miles Enterprise, features a horseshoe-shaped counter; shelves behind it stock a spare assortment of bread, crackers, and other dry goods, along with a robust selection of booze. Tonight, the small shop space is packed with about 30 congregants, with another 30 or so spilling onto the sidewalk. Some are dancing, others chatting, and nearly all steadily adding to the collection of empty Guinness, Red Stripe, Magnum Tonic Wine, and Appleton Rum bottles filling a few tables out front. A large woman wearing a fishnet dress over an electric-blue bra and panty set holds a drink over her head and swivels her hips lazily next to a heavyset older man in a green Jamaican soccer jersey, a red OBAMA ski hat, and flip-flops. Every few minutes the selector, as DJs are called in Jamaica, cuts off the music to say things like "Let's take it back to the roots," "West Kingston people are the best," and "We coming back."
This low-key gathering is what's left of one of the world's biggest street parties. Until recently, every Wednesday night, this stretch of Spanish Town Road hosted Passa Passa, an infamous all-night bacchanal that was ground zero for dancehall music, the brash, digitized offspring of reggae that dominates Jamaican culture. On May 24, Jamaican police and military units stormed into Tivoli looking for Christopher "Dudus" Coke, a powerful local "don" wanted by the United States on drug and weapons trafficking charges. Dudus is extremely popular here, known more for his largesse — granting small-business loans, buying school supplies for kids, paying people's medical bills, providing jobs, keeping the peace — than for any of the nefarious deeds he's been accused of, and according to police, they encountered heavy armed resistance. The ensuing bloodbath left 73 civilians and three police officers dead, but Dudus wasn't found until June 22, when he was peacefully apprehended riding in a car along Mandela Highway, west of Kingston. In a country where not much happens without a danceable backbeat behind it, it seemed only fitting that the violent hunt for the country's most notorious man would drive a track straight through the heart of the dancehall community.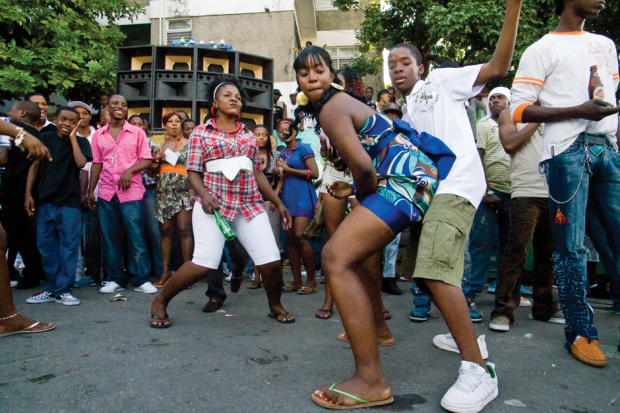 The chaos has subsided for now — though tomorrow police will arrest 48 people after finding 121 pounds of marijuana and a 9mm pistol at Coronation Market just around the corner — but Tivoli bears plenty of scars. Parts of the previously bustling open-air market remain charred from a fire that broke out during the unrest, and bullet marks are visible on many of Tivoli's mid-rise apartments. In the aftermath of the raids, the government imposed a 6 P.M. curfew on parts of Kingston, Jamaica's capital, as well as a state of emergency that allowed authorities to detain people without charges, though as the scene in front of Miles Enterprise suggests, the restrictions are beginning to relax.
"This is actually how Passa started," Dylan Powe tells me as we sit on a wooden bench built into the wall bordering Tivoli. Powe helps run Swatch International Sound System, which organizes Passa Passa, and Miles Enterprise has been his family's business since the 1950s. "In 2001, police came down here, and you had a massacre" — more than 25 people were killed in a three-day police operation — "and as a result, people in the community weren't able to go out and party. So on Wednesday, we'd bring out the sound system and play music so people would know it's not all doom and gloom. Little by little, people would come around because there was nowhere else to go." Eventually, Passa Passa grew to host as many as 25,000 revelers at a time and feature performances from dancehall's top names.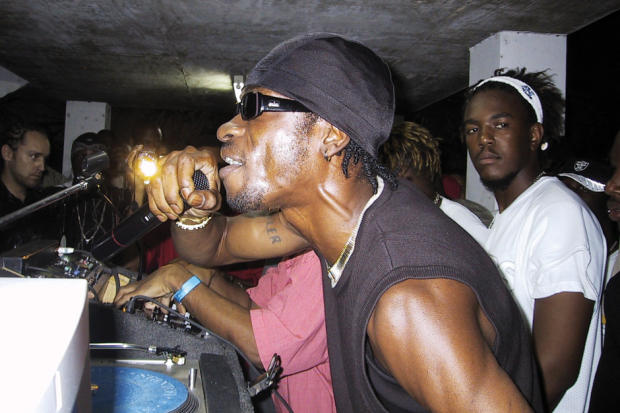 Dancehall evolved from reggae in the 1970s: The tempos picked up, and songs about social justice and repatriation to Africa began taking a backseat to ones about sex and guns. Over the past 20 years, it's come to replace what's now called roots reggae as the sound of the island, just as reggae replaced ska before it — these are not distinct genres but rather different points on a historical continuum. And in a country with only fledgling homegrown film and television industries, dancehall stars such as Elephant Man, Bounty Killer, and Vybz Kartel are high-wattage celebrities whose only real peers are "world's fastest man" Usain Bolt and Dudus.
Dudus has no official connection to Passa Passa, but since the party takes place in a community where he's considered the don, he has sometimes made appearances. Through one of his companies, Presidential Click, he also promotes shows and parties, including two high-profile annual concerts, Champions in Action and West Kingston Jamboree.
"He did a lot for our income as artists in Jamaica," says Patrick "Curly Lox" Gaynor of the dancehall/comedy duo Twin of Twins. "Put crime aside — me not know him like that. He was a good promoter and a man who did good things for the community. Everybody love Dudus."
Shortly after the U.S. requested Dudus' extra-dition last August, the Twins released a song, "Which Dudus," lampooning the manhunt for him, and recently cut another, "Crime Minister," that suggests he's just a scapegoat for the country's real problems. Jamaican Prime Minister Bruce Golding, whose home district is the swath of West Kingston that includes Tivoli, initially questioned the legality of the extradition order and contracted an American law firm to lobby the U.S. to quash it. The U.S. State Department responded tersely: "Jamaica's delay in processing the extradition request for a major suspected drug and firearms trafficker with reported ties to the ruling party highlights the potential depth of corruption in the government." Golding relented in May and deployed the security forces.
The federal indictment accuses Dudus of heading the Shower Posse, a vast criminal network that moved arms and drugs into many U.S. cities. The gang has a reputation for wanton brutality and is reportedly responsible for hundreds of murders. But in Kingston and the dancehall community specifically, Dudus is mostly seen as a hero. As Gaynor's twin and bandmate Paul "Tu Lox" Gaynor puts it, "We see the good that him do, and we hear about the bad that him do. This man to the people is a Robin Hood."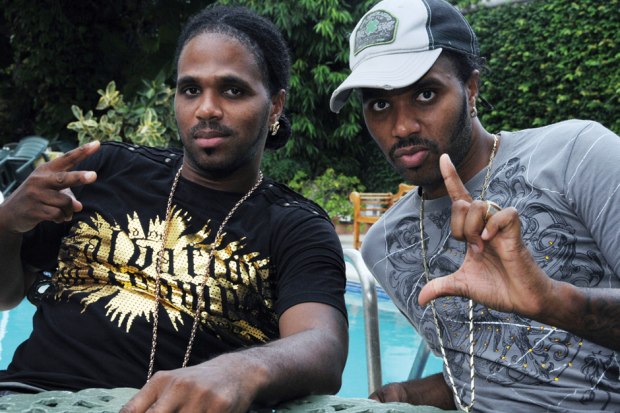 Tivoli gardens is largely the invention of a music producer/executive turned politician named Edward Seaga. The American-born, Harvard-educated Seaga produced several seminal late-'50s and early-'60s Jamaican recordings by artists such as Joe Higgs and Byron Lee, and can claim some credit for spreading ska from the Kingston ghettos to the rest of the world. He won election to Parliament in 1962 as a member of the right-leaning Jamaican Labour Party (JLP), representing West Kingston. In 1966, he oversaw the destruction of Back O' Wall, a slum filled with Rastafarian squatters and supporters of the rival People's National Party (PNP), and built Tivoli in its place.
Tivoli was designed as a self-contained community based on a model Seaga had studied at Harvard. The idea, according to an editorial he wrote one month after the hunt for Dudus turned Tivoli into a war zone, was "to create not just a housing scheme, but a community with all the facilities needed for social and cultural development, from womb to tomb." This included a birthing center, sports facilities, and government-financed housing, which Seaga populated with his JLP supporters, ensuring he'd comfortably win every election until his retirement in 2005 — a run that included nearly nine years as prime minister during the 1980s.
Seaga's social experiment did create a self-contained community, albeit one where rules on the ground were made by a local don and enforced by a small army of thugs. In the '70s and '80s, that don was Dudus' father, Lester "Jim Brown" Coke, who is credited as one of the Shower Posse's founders. (Brown, who, according to Laurie Gunst's 1996 book Born Fi' Dead, may have had a hand in the attempted assassination of Bob Marley in 1976, died in 1992 in a suspicious fire in his Kingston jail cell while awaiting extradition to the U.S. — a development his son, no doubt, took note of — and was later memorialized in the Elephant Man song "Real Godfather.")
Seaga's free-market ideology endeared him to the U.S., particularly as his main rival, Michael Manley, spent his '70s tenure as prime minister cozying up to Fidel Castro's Cuba. Gripped by Cold War paranoia, the CIA helped arm Seaga's followers, turning an already rough-and-tumble political landscape into an undeclared civil war. Ghettos, or "garrisons" like Tivoli, became politically homogenous enclaves, ruled by gangs frequently at war with their politically opposed?neighboring communities. The dons operated?with the tacit approval and often outright assistance of political patrons, who doled out government contracts and ensured police cooperation in return for marshaling supporters or scaring off opponents come election time.
Tivoli's reputation as the most fearsome of these garrisons is perhaps misleading. (Says Powe: "People don't fuck with outsiders here.") En route, I passed through far more dire-looking ghettos: the PNP stronghold Arnett Gardens, where goats wander through tight streets between tin-roofed shacks; Trench Town, where favorite son Bob Marley stares down from a huge mural at emaciated stray dogs picking through roadside trash heaps; Denham Town, where barefoot children play along the potholed street in front of the burnt remnants of a police station set ablaze by gunmen loyal to Dudus days before the Tivoli raids.
Nonetheless, this part of Kingston is arguably the political, cultural, and musical heart of Jamaica. As Powe puts it, "This is where reggae was invented. The Jamaican recording industry and 90 percent of the artists that came out in the '60s and early '70s and dictated what people appreciated about reggae" — including Bob Marley, Desmond Dekker, and Prince Buster — "came from within a quarter mile of here."
Dudus' musical ties are a natural extension of being part of this community but also a family tradition. His father started Champions in Action. His brother, Leighton "Livity" Coke, who was arrested on shooting charges during the hunt for Dudus, founded Liv Up Records, a West Kingston label that has released tracks by Sizzla, Mavado, and Vybz Kartel, and is currently run by Dudus' nephew and niece.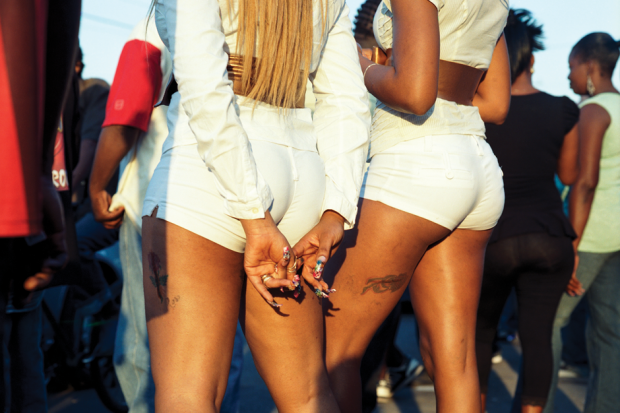 According to Mavado's manager, Julian Jones-Griffith, Dudus played a part in ending the feud between Mavado and Vybz Kartel last year, after it had grown from an ordinary ?exchange of dis tracks to a violent rivalry between their respective "Gully" and "Gaza" factions. A decade earlier, he brought together Bounty Killer and Beenie Man, along with many of their allies, to cool tensions between their camps. "We sat down with him and all the top artists at that time," says Ricky Trooper, a veteran selector who attended the meeting. "He was the one who broker that peace and make the artists live good."
Many Jamaican artists have shown Dudus their appreciation with frequent big-ups, in concert and on record. Besides Twin of Twins' tunes, he's been saluted in songs by Elephant Man, ?Alozade, and Wayne Marshall, among others. Even roots-reggae elder statesman Bunny Wailer released a song, "Don't Touch the President" — alluding to one of Dudus' other nicknames — in the wake of the extradition order.
"Sometimes out of evil, come the poor good?/ Can't you see the progress in the neighborhood," Wailer sings, before hailing Dudus for healing the Gaza-Gully divide and uniting the garrisons, and warning of dire consequences should anyone try to remove this "Robin Hood of the neighborhood." When I visit Wailer in the yard outside his home, which sits behind an eight-foot wall topped with lion sculptures and adorned with a Rastafarian flag, he contends the real villains are corrupt politicians — Seaga and Golding chief among them.
"Dudus didn't kill anybody in Tivoli the other day," he says. "There have been so many violations of democracy even before Dudus was born. The people responsible for those violations are still here. Until they're arrested and charged for their crimes, the Jamaican people are defenseless, helpless, and subject to what went on down in Tivoli."
Dudus' music connections aren't an anomaly. In this small island nation of roughly 2.7 million people, the lines between music, crime, and politics don't so much blur as disappear entirely.
Bob Marley, arguably the most galvanizing figure in the country's history, often had a foot in the political world, never more so than when he united the leaders of the country's warring parties, Seaga and Manley, onstage during the One Love Peace concert in 1978. Less well known are Marley's associations with notorious gangsters Claudie Massop and Bucky Marshall, both of whom helped organize the gig.
"There is a longstanding link between the underworld and music," explains Dennis Howard, a lecturer and PhD candidate at the University of the West Indies, and former program manager at Jamaica's Irie FM. "Sometimes the music is a laundry for money. Plus, there's this longstanding fascination between gangsters and entertainers. Entertainers want to be gangsters and gangsters want to be entertainers."
According to Howard, in some cases the respect artists show dons is more about self-preservation than shared ideals. "Some of these artists come from the same areas [as the dons] and want certain protections from people trying to rob them," he says. "So there is that aspect where it's required from the don that you big him up."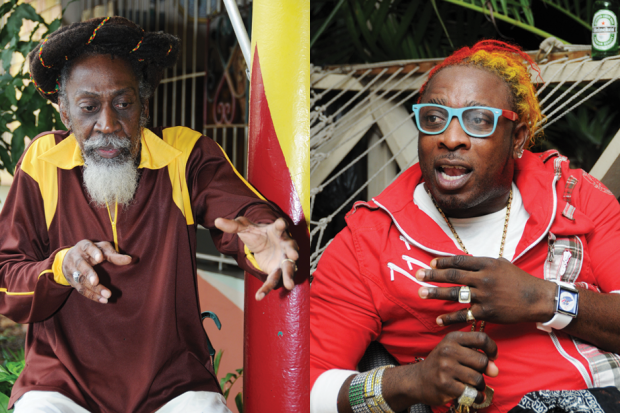 I ride through the hills on the outskirts of Kingston, trailing Elephant Man in his gleaming yellow Range Rover, which looks all the more ostentatious as we pass vendors peddling bags of mangoes and old men playing dominoes at ramshackle roadside bars. We end up at the suburban mini-mansion that houses Big Ship Studios, the home base of reggae veteran Freddie McGregor and his son Stephen, a prominent dancehall producer. Elephant Man greets Freddie, then sits down on some patio furniture in the front courtyard. Elephant's 2001 song with Spragga Benz, "Warrior Cause," honors Dudus and many other dons, but he says that nods to gangsters shouldn't necessarily be taken as an endorsement of criminality. "We don't sing the songs to say what they're doing is okay," he says, mopping sweat from his forehead with a bandana. "We didn't do the music to say, 'Big-up the gunman.' Most of these people isn't just some careless gunman. They were warriors defending their turf, making sure nobody come rape their mother and kill their sister. But them get caught up in the system."
There are also undoubtedly musicians simply describing their world as they know it. As Powe points out, in a poor country like Jamaica, "Music is still a major source of news and how you view things. The artists who are from the community, when them DJ in the community, them talk about issues happening in the community." If rap, in Chuck D's famous formulation, was the CNN of black America, dancehall is Jamaica's version.
But as with rap, dancehall artists have also been a frequent target of criticism for glorifying gun violence and, in many cases, actually participating in it. In just the past two years, the roll call of artists who've either been shot, shot at, or arrested in connection with a shooting includes Mad Cobra, Bounty Killer, Ninja Man, Mavado, Sizzla, Louie Culture, Luciano, Kentucky Kid, and Oneil Edwards.
Jamaica itself has a long history of celebrating outlaws. Jimmy Cliff, who starred as singer turned fugitive gangster Ivanhoe Martin in 1972's The Harder They Come, says that this worldview was partially shaped by American culture. "People like myself from the lower economic bracket could go to a cinema every weekend and see three Westerns in a row for cheap," he says. "So we glorified those characters."
Jamaican history also abounds with rebels, desperados, and scoundrels who've been hailed as heroes. The notorious pirate Henry Morgan was a celebrated 17th-century governor of the island. Many other national icons — Sam Sharpe, Paul Bogle, George William Gordon, Cudjoe — led bloody uprisings against slaveholders or colonial authorities and were often martyred for their trouble. "We grew up seeing all these heroes who were either plunderers or thieves, or who fought guerrilla warfare against the British," says Cliff. "So that's part of the heritage and DNA of the people."
The poverty, corruption, violence, and hopelessness that has plagued Jamaica since it gained its independence in 1962 has ensured not only the popularity and staying power of these ?antihero tales, but also a relationship between ?music and gangsters that is more than just a stylish pose. Despite its popularity with tourists, Jamaica consistently boasts one of the world's highest murder rates and, according to a 2008 study by the Latin American Opinion Project, is perceived as the most corrupt country in the Western Hemisphere. Amnesty International reported in 2009 that the police force had killed 1,900 people in the previous ten years, with only four officers convicted of any wrongdoing in association with the deaths. Gunst, who studied Jamaican ghetto culture for two decades to write Born Fi' Dead, says these factors make the iconic badman particularly appealing. "The idea of the Jimmy Cliff character going out in a blaze of glory with guns in his hands but having stood up to the oppressor is irresistible because Jamaicans deal with oppression every day," she says. "They're never going to fight back, so these are the vicarious guys that do it for them."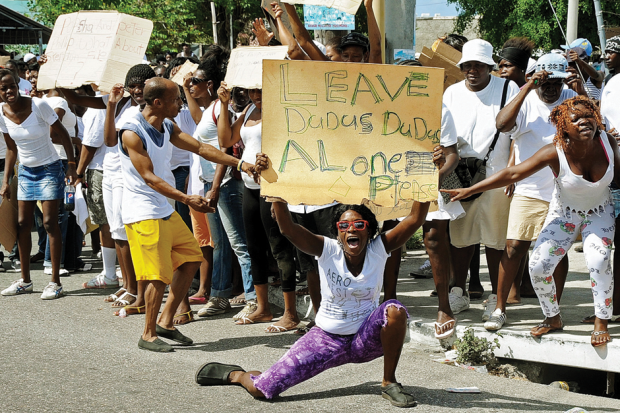 There are also sobering real-world implications to these socioeconomic dilemmas. One afternoon I meet Bounty Killer at a big, disheveled orange house in a middle-class Kingston neighborhood where his management company has its offices. Bounty spent ten days in jail in April after being arrested for allegedly assaulting his girlfriend (the charges were later dropped) and was one of five dancehall stars who had their U.S. visas revoked in early April, a move many interpreted as an attempt to pressure Jamaica into extraditing Dudus.
"Until we elevate the youths, the don is going to come for them," Bounty says. "Everyone on the roadside is available for the dons because they're doing the things the government should be. They're going into communities and helping people." As Bounty begins cataloging the failures of the current government, dismissing the MPs (Members of Parliament) as "fucking hypocrites," his manager enters the room, evidently concerned his rant will exacerbate his visa and legal troubles. He waves her off.
?"Dudus isn't the first don and won't be the last," he continues. "Right now, all the bad guys run out of Tivoli, Dudus is in custody, but what about the good guys down there? I don't see anything good happening for them. I don't see any youth programs, any sports activities, any educational program, any training center. All they put up there is a police post. It's like they're just waiting to kill somebody."
The arrest this summer of elusive alleged drug kingpin–and Jamaican folk hero–Christopher "Dudus" Coke served as a dramatic reminder that when it comes to partying at the crossroad between organized crime and pop music, rap's got nothing on dancehall.
My last night in Kingston, I meet Ornella "Sasha" Coke, Dudus' niece and one of the primary movers behind Liv Up Records, at the noisy poolside bar of an upscale hotel. Her father, Mark "Jah T" Coke, was tapped as Jim Brown's heir apparent but was gunned down in 1992 while Brown was in a jail cell awaiting an extradition to the U.S. he wouldn't live to see. I'd been trying to arrange an interview with Sasha since arriving in Jamaica five days earlier, but with Dudus in New York getting ready to stand trial, her other uncle Livity in jail, and Dudus' sister Sandra also detained by police as part of the much-hyped government effort to clamp down on dons, she had been reluctant to meet.
"Right now, Liv Up is on a little pause because everybody have this stigma in the media," she says. "You have people writing about [Dudus] that don't know nothing about him, and people that don't know nothing about him read what them write and accept it."
She says Dudus was merely doing what the government failed to.
"You have people who are defending him now — he give them money and create a better life for them. This is a man that stand up for them. When him gone, what will happen to them?"
Soon enough, Dudus will go on trial in New York, and there's reason to believe he'll spend a healthy portion of his remaining days in prison. But what will that mean for Jamaica? The general consensus among those I spoke to is that with Dudus and many other dons gone and nobody stepping in to provide jobs, money, development, and security, things will get much more violent and chaotic. "When Atilla the Hun died, [his kingdom] split into four," says Twin of Twins' Patrick Gaynor. "Everybody start tribalism over. That's what's going to happen now."
Beyond that, most everyone I spoke with seems to agree with the prognosis offered by Sasha: The future will probably look much like the past. "When all this is out of the limelight, everything is going to go back to normal, because 80 percent of Jamaica is made up of garrison, and the government not doing nothing for them," she says. "So you got to have a man that's going to take up their position. And the politicians, the same ones, will give them the authority and use them to do the dirty work they can't do."
Music will be an integral part of this future because it has to be. This tiny third-world island has made a ridiculously outsize contribution to popular music worldwide, so it's only natural that power, influence, and prosperity will remain closely tied to dancehall. Despite its electronic riddims and studio-doctored effects, dancehall is folk music in the truest sense of the word, the lingua franca of the Jamaican people. Besides, as selector Ricky Trooper put it one afternoon while sitting on a leather couch in his cramped Kingston apartment, in a country where an oppressive ruling class treats the disenfranchised majority with often violent disdain, and security, opportunity, and dignity are hard to come by, music is one thing that can't be taken away.
"Reggae a poor people's thing for express them feelings, talk about them hardship," he says. "It dictate our life and tell us what go on. Over all the years, it's the only thing we have as Jamaicans.
"Them sell out everything," he continues, shaking his head. "We not have anything. Music is what we have."