"Sex Karma," off Of Montreal's tenth studio album, False Priest (out Sept. 14), which is one of SPIN's highest-rated releases of the year, features guest vocals from Solange Knowles (Beyonce's younger sister), and lyrics cribbed from frontman Kevin Barnes' five-year-old daughter. Download the track below, and read on for the story behind the song.
The track was the first one that Barnes wrote for False Priest, but after deciding it would be better served by a female vocalist, he offered "Sex Karma" to pal Knowles for her own solo album. When he heard Solange's take, though, Barnes started to yearn for "Sex Karma" to appear on his own record, and decided to ask for it back.
"I was nervous," he tells SPIN.com. "I thought maybe she'd be upset, but she was totally cool about it."
Instead, the song evolved into a duet between Barnes and Knowles, inspired by one of the Of Montreal man's favorite partnerships: The late-'60s collabos between Marvin Gaye and Tammi Terrell, who scored hits with "Ain't Nothing Like the Real Thing" and "You're All I Need to Get By."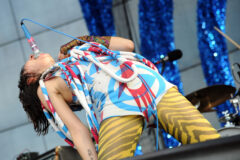 "The thing I love about Marvin and Tammi is that there's a sort of feistiness between them, a sexual energy, but they're always trying to restrain themselves, even though the chemistry is so great," says Barnes. "Whenever I perform with Solange or Janelle [Monae, another collaborator on False Priest] it's that same sort of feeling, this excitement just to be onstage with them."
But Barnes admits to having yet another collaborator on the track, his five-year-old daughter, who coined the line, "You look like a playground to me."
"Yeah, I kind of stole that lyric from her," he says. "When she said it she was 3. Whenever she's singing, I always listen because she comes up with some amazing ideas."
Of Montreal wrapped the song-and the rest of the album-in Los Angeles with producer Jon Brion (Fiona Apple, Aimee Mann, and Kanye West), who added an additional flourish to "Sex Karma": a Mighty Wurlitzer, one of the biggest pipe organs in the world. "We went to this church that had one, set up a bunch of mics, and [Brion] played all this crazy stuff on it," Barnes recalls. "It was a really magical experience."
Download "Sex Karma," and tell us whether you think it's magical in the comments section below.
LISTEN: Of Montreal, "Sex Karma"(DOWNLOAD MP3)