Three months after teaming up with Dirty Projectors for the benefit EP Mount Wittenburg Orca, Björk has returned with another charity effort titled "Comet Song." The track will benefit UNICEF's work with flood victims in Pakistan and is available on iTunes now.
Björk, who also contributed the song to the soundtrack for the forthcoming animated movie Moomins and the Comet Chase, teamed up with Icelandic poet Sjón, British DJ Matthew Herbert, LFO's Mark Bell and Volta co-producer Damian Taylor for the track-and the result is typically avant-garde. "The Comet Song" piles on digitally-altered atonal flute melodies, tinkling music boxes, and a thudding industrial beat-before suddenly cutting out abruptly. "On our mission to save the world," Björk sings, "we need milk and cakes and a warm bed."
Björk may not have plans to release a full album anytime soon, but she has other projects in the works. Next up? A collaboration with Antony and the Johnson's for a track on the new LP Swanlights, which hits stores in October.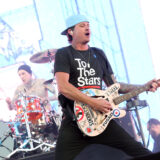 What do you think of "The Comet Song"? Sound off in the comment section below.