The National's performance last week at NYC's Terminal 5 — part of SPIN's 25th anniversary celebration, presented by ZYNC from American Express — was an epic one, viewed by 3,500 fans in person, and thousands more online (Read SPIN's review).
We've got a full-length clip from the concert, featuring a performance of "Afraid of Everyone," off 2010's High Violet (one of SPIN's 20 best albums of 2010, so far), which you can watch below.
Also, check out a clip of behind-the-scenes footage of the concert, shot in HD on Flip SlideHD™ video cameras by select contest winners, who won trips to New York City for the entire week of SPIN25 shows, courtesy of ZYNC from American Express. The clip also includes footage from SPIN's exclusive interview with the band!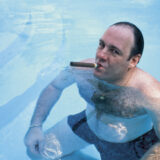 Watch the videos below!
The final SPIN25 rebroadcast airs at 9 P.M. EST Friday night (August 6), featuring Spiritualized performing their classic Ladies & Gentlemen, We Are Floating in Space.
For more info on Flip SlideHD please go to: www.TheFlip.com
Flip, Flip Video and Flip SlideHD are trademarks of Cisco. Cisco and/or its affiliates are not a participant in or sponsor of this promotion. © 2010 Cisco