"In the end, it doesn't even matter," Linkin Park's Chester Bennington once sang, and on the just-released video for "The Catalyst," his band's throbbing new single, it is the end-of the world. Watch the clip below.
Directed by Joseph Hahn, the group's DJ and frequent video visionary, the clip shows the guys in various scenes of smoky, nocturnal chaos, as fellow humans scurry for shelter. "God save us, every one, will we burn inside the fire of a thousand suns?" Bennington and co-vocalist Mike Shinoda howl.
"The Catalyst"-released as a single earlier this month, and taken from A Thousand Suns, the band's fourth album, out Sept. 14-finds Linkin Park offering up their most electronic-sounding song yet, with a staccato intro that recalls the frenzy of Underworld's "Born Slippy."
What do you think of Linkin Park's new video? Watch, then sound off in the comments below.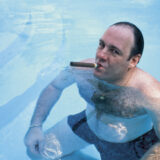 WATCH: Linkin Park, "The Catalyst"